2022 ASAE ForesightWorks Complete Collection (PDF)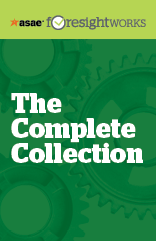 Product Information
Description
Prepare for the future by exploring—with board and staff—drivers of change likely to affect associations. Through the ongoing ASAE ForesightWorks initiative, futurists and executives have given you a head start on your strategic discussions and planning by scanning the environment for you and identifying 50 drivers of change with likely implications for associations.
The Complete Collection includes actions briefs for all 50 drivers of change, including those added or updated in August 2022, along with a User's Guide. Each action brief is a four-page examination of a driver of change, including
description
forecasts
key uncertainties
supporting trends
notable data points
related drivers of change
strategic insights
timing
potential alternative futures
actionable ideas
key search terms
organizations most likely to be affected
The ASAE ForesightWorks User's Guide works in concert with the action briefs and other resources to assist leaders in establishing foresight practices and processes. It explains the discipline of foresight, the methodology for the ASAE ForesightWorks program, and the most effective ways to use the action briefs. The User's Guide also provides tools and other resources, such as facilitation tips, strategic questions, and a sample survey, to help you prioritize which drivers of change to tackle.
A license to share the action briefs with staff and volunteers within the purchaser's single legal entity is included with the purchase.
Note: This product is a downloadable ZIP file. After your purchase, you will be presented with the ZIP for download. You will also be able to access the file for 365 days from the date of purchase in the "My Downloads" section of your profile on the ASAE website.
(2022, ZIP)