Operating Ratio Access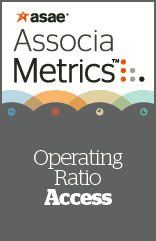 Product Information
Description
One-year access to this online tool allows you to generate your own custom reports of the data by revenue, tax status, membership type, geographic scope, industry type and location. Access also provides a PDF of the ASAE-prepared report, Association Operating Ratio Report, 16th Edition,
CEOs, deputy CEOs, chief financial officers, managers, and board members will find this tool helpful in evaluating an organization's operations by assisting with
comparing financial and operational benchmarks against similar organizations
measuring key performance ratios
identifying potential areas for improvement
strategizing and making recommendations for the allocation of association resources
tracking trends over a period of time to inform decision making
supporting board presentations
providing, in conjunction with dollars-and-cents financial information, an extremely accurate picture of financial performance and financial position
View a quick introduction to this online benchmarking tool.
Operating Ratio Report Access is available along with Association Compensation & Benefits data to AssociaMetrics Premium subscribers at a reduced package price.
Review a FAQ for the Operating Ratio Report and details on product options.
Questions? Email benchmarking@asaecenter.org.
(2021, online tool, one-year access)