Association Compensation & Benefits Access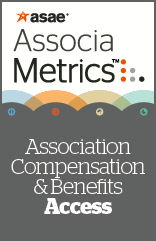 Product Information
Description
This compensation and benefits online tool provides staff compensation information for 66 of the most common positions within associations.  Filters available allow you to sort data by staff size, geographical area, revenue, tax status, and others to formulate custom reports and compare against organizations similar to yours.
Purchase a one-year subscription to Association Compensation & Benefits Access, which allows you to
compare the competitiveness of your organization's compensation and benefits package with other associations
gather information about employment contract and performance evaluation practices
get data on retirement planning and benefits
build a case for increasing your staffing levels
Previous purchasers of the Greater Washington Compensation & Benefits study can access the regional information within the online access by using the Region filter option.
View a quick introduction to this online benchmarking tool.
Review a FAQ for the Compensation & Benefits study for details on available positions and purchase options.
Association Compensation & Benefits Access is available along with Operating Ratio Report data to AssociaMetrics Premium subscribers at a reduced package price.
(2022, online tool, one-year access)