Annual Summit Awards Dinner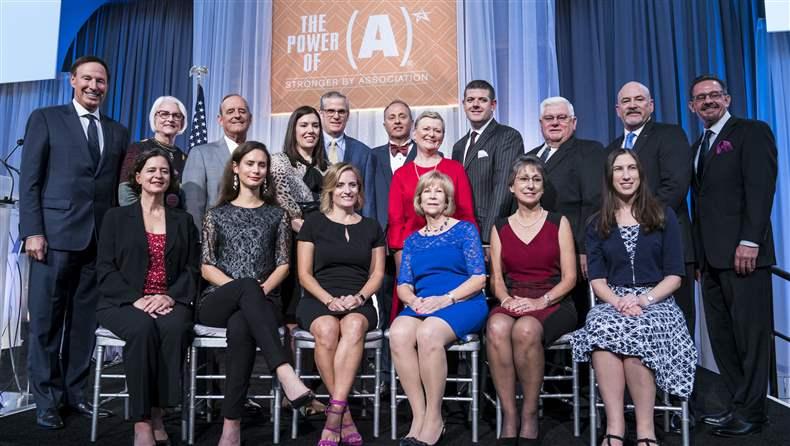 More than 1,000 association executives, industry partners, community leaders, and business and government representatives will come together on October 2, 2019, at ASAE's 20th Annual Power of A – Summit Awards Dinner. This premier event in the association industry honors six extraordinary organizations that exemplify the invaluable contributions that associations make to America and the world. The evening will showcase six award-winning programs of these organizations that have made a significant impact in their community.
Wednesday, October 2, 2019
Reception: 6:30 p.m.
Dinner: 7:30 p.m.

National Building Museum
401 F St., NW
Washington, DC
Business dress
Complimentary valet parking available
Purchase Tickets
2019 Summit Awards Dinner Cochairs
Sal Martino, FASAE, CAE
CEO and Executive Director, American Society of Radiologic Technologists

Michelle Korsmo
President and CEO, Wine & Spirits Wholesalers of America
Master of Ceremonies
Steven C. Anderson, IOM, CAE
CEO, National Association of Chain Drug Stores
About the Dinner
The Summit Awards Dinner, founded by George D. Kirkland, CAE, is ASAE's signature event of the year showcasing the unique and indispensable role associations play in America and around the world in bettering communities, fostering volunteer efforts, and harnessing the collective will and expertise of their members to ensure a better quality of life. As reinforced by the Power of A program, America's associations have the power to drive the economy, put people to work, prepare for the future, and enrich lives. The Summit Awards Dinner is our industry's chance to celebrate our profession and share that positive message with other key audiences.
Proceeds from the Summit Awards Dinner directly benefit ASAE's Power of A (PWRA) Fund, which provides the resources ASAE needs to lobby Congress, activate grassroots networks, hold forums with elected officials, perform research, and continue to share the Power of A message with legislators, the media, and other opinion leaders.
See photos from the 2018 dinner.
Our Supporters
Thank you to our 2018 steering committee, sponsors, and other supporters. These individuals and organizations were essential in making last year's dinner a successful and exciting evening celebrating the positive impact of our community. If you'd like to be a part of the 2019 steering committee or a sponsor organization, please contact Mary Kate Cunningham, CAE.
Summit Award-Winning Programs
For more information, contact:
Mary Kate Cunningham, CAE
Vice President, Public Policy
202.626.2807
[email protected]