Eight Ways to Raise Nondues Revenue With a Virtual Auction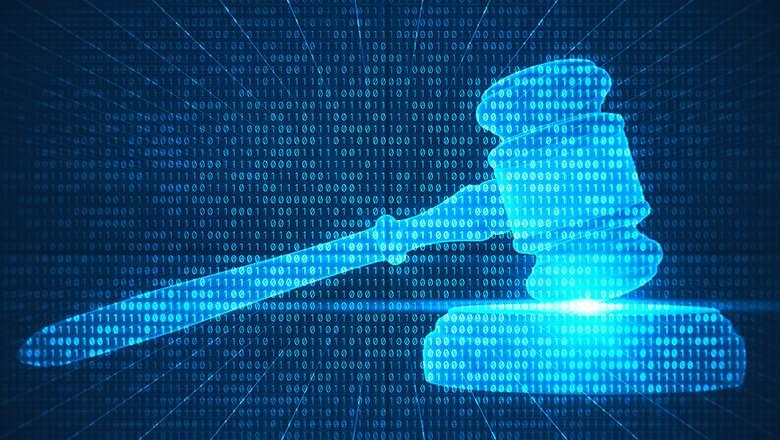 May 5, 2021
By: Kelly Velasquez-Hague
Virtual auctions with donated prizes can help engage your members and raise revenue for your association at the same time. Follow these steps to set up an auction.
As we settle into 2021, organizations of all shapes and sizes are adapting to the new normal of pandemic-era engagement and fundraising. For associations, the pandemic and its economic impacts have made staying on mission particularly challenging.

Generating nondues revenue and boosting member engagement have always been top priorities for associations, but the need is especially high now. Associations have found virtual events and activities to be adaptable solutions for connecting with their communities.

Your association has likely already experimented with a range of virtual fundraising and engagement tactics to generate nondues revenue. But here's one more recommendation: virtual auctions.

Virtual auctions raise money by offering supporters items and packages to bid on. Because items are donated, the association receives the proceeds from winning bids. Similar to traditional silent auctions, virtual ones translate the classic experience to a digital format using bidding software and catalog websites. They also typically take place over an extended timeframe, often a few days to a week.
Reasons to Have an Auction
Virtual auctions are worthwhile events for associations and nonprofits for a few key reasons:

They're flexible and engaging. Auctions are engaging because attendees participate to receive tangible prizes. They're also easily paired with other virtual engagement opportunities, including live-streamed programs, contests, and peer-to-peer elements. This makes them an effective choice for engaging with members who might be less interested in your standard fundraising events and opportunities.
Staying relevant and adaptable in the virtual era is a challenge, but virtual auctions can provide new ways to engage your members while also raising crucial nondues revenue.
They're open to everyone. As online events, anyone can join, regardless of their location.

They're relatively low cost. Virtual auctions are cost-effective because they don't require the same logistical expenses as traditional events. You just need to invest in auction software and spend time planning the event and procuring items, which can drive significant ROI.

They make it easy to tap into partnership opportunities. Virtual auctions can celebrate your association's members and partners. Plus, reaching out to businesses to procure items opens up all kinds of opportunities to forge new corporate sponsorships.

While the shift to remote engagement has been a necessity for many sectors, these benefits make virtual auctions a reliable and adaptable choice for associations regardless of whether everyone is working remotely or not.
Planning a Virtual Auction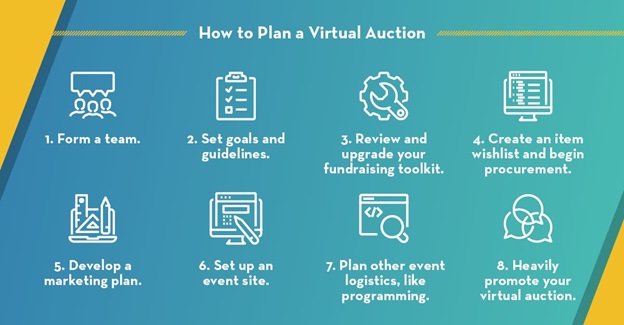 Form a team. You need dedicated individuals or committees to handle various aspects of your auction, including technology, marketing, sponsorships, and item procurement.

Set goals and guidelines. Building from your budget, set a revenue goal for your auction and consider member engagement and retention targets.

Review and upgrade your existing fundraising tools. You may need to invest in auction software and mobile bidding tools to host your event. You may also need additional website or live-streaming capabilities, which can be continually reused to keep your association's fundraising toolkit agile and adaptable.

Create an item wish list and begin procurement. Start with a wish list of items and packages that you know your audience will want. Give your team plenty of time to reach out to partners and potential donors to begin building your catalog, and then price your items as you procure them. This guide to auction item pricing lays out a few best practices to keep in mind for this process.

Develop a marketing plan. Social media, email, and your newsletters will likely be your most important marketing outlets. Develop a promotional strategy that drives supporters to sign up and teases your exciting range of items.

Set up an event site. Your virtual auction will need a dedicated website to serve as the central location for its catalog, bidding tools, registration form, live-streamed elements, and more. Create this website early so you have time to refine it before you begin fully marketing your event.

Plan other event logistics, like programming. Virtual auctions are often hosted alongside other virtual events. If you're hosting a live-streamed program at the start or end of your auction, take the time to lay out a complete timeline for the event and determine how the auction will fit in.

Heavily promote it. Promote your auction far and wide to your association's community. Use gamification, early signup perks, and peer-to-peer tactics to boost engagement leading up to the event itself. Leverage social media and other digital channels to increase your reach and bidding!

Staying relevant and adaptable in the virtual era is a challenge, but virtual auctions can provide new ways to engage your members while also raising crucial nondues revenue. By following these core steps and thinking carefully about what types of items and activities will be most engaging for your unique member base, you're sure to pull off a successful auction.