Five Steps to a Truly Engaging, Lively Leadership Discussion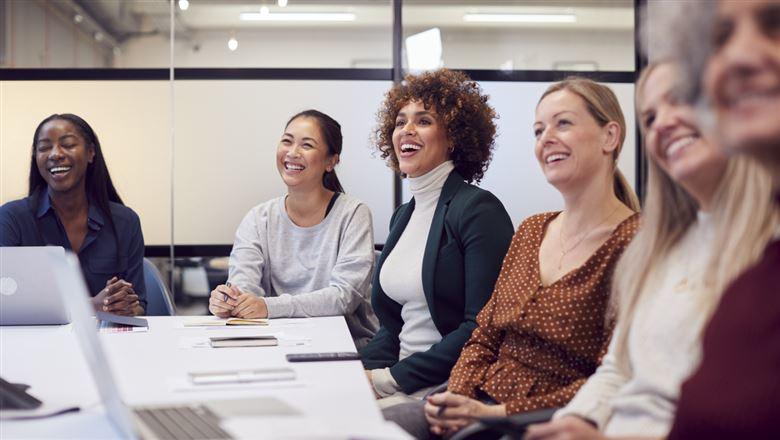 October 18, 2021
By: Sheri Jacobs, FASAE, CAE
Facilitating a lively event panel does not happen spontaneously—or overnight. It requires a little homework, advance planning, and thought to spur meaningful conversations to make sessions rewarding, informative, and valuable. An association pro shares five tips for success.
During the 2021 ASAE Annual Meeting in July, I moderated a panel with four women CEOs focused on how each one reimagined their organization's strategy and adjusted their leadership style since the start of the pandemic. My goal was to create an honest discussion that would encourage the panelists to open up, share their experiences and expertise, and create an environment where attendees would get swept up in their stories.
I skipped the formal introductions and instead asked each CEO to share a brief story that illustrated what allowed them to be a strong leader during the past 18 months. That one question spurred a lively discussion that engaged our audience and generated lots of conversations on the session's chat and social media.
Rather than assembling a panel to fit a list of questions, I thought about who some of the real change agents in the association space are.
Although the discussion probably appeared organic from an attendee's perspective, this conversational panel was the result of significant pre-planning and collaboration with the panelists. Here are six steps I used to create the conditions that made this session so engaging and immersive.
Tailor Questions to the Panel
Rather than assembling a panel to fit a list of questions, I thought about who some of the real change agents in the association space are—leaders who are not afraid to address the big challenges facing their industries and communities. At the top of the list were Michelle Mills Clement, FASAE, CAE; Elena Gerstmann, Ph.D., FASAE, CAE; Lynda Patterson, FASAE; and Lakisha Woods, CAE.
Woods, president and CEO of the National Institute of Building Sciences (NIBS), is leading diversity, equity, and inclusion efforts in the building environment. During the panel, she said she realized there was an opportunity to increase diversity in her industry by addressing the lack of diversity among volunteer leaders.
It's not enough to make a statement about embracing a diverse workforce, Woods said. Associations must provide opportunities for anyone to succeed, and this begins with leaders. "It is the associations that represent the industry that determine the future diversity of the industry itself," she said.
Do Your Homework
Before the session, I researched each of the panelists and developed questions focused on their innovative leadership approaches. For example, I learned from an Associations Now article that one of the biggest challenges that Mills Clement, who is CEO of the Chicago Association of Realtors (CAR), faced is not having the collaboration that naturally occurs between meetings. I asked her to share the story behind how she overcame this obstacle.
Mills Clement missed the organic nature of pop-up conversations that used to occur by the elevator in her office. Once CAR went virtual, she realized she had to create a way for conversations to naturally occur. The answer was to create quick, 15-minute coffee collaborations on a topic.
"What started happening is people started to have a little bit more banter and a little bit more of that collaboration using the chat feature on Teams," Mills Clement said. "And it would turn into 'Hey, let's just do a quick coffee, 15-minute meeting'. And that, I saw, started to bring some of the collaboration back."
Collaborate With Panelists
Before the session, the panelists met on a call to refine the questions I generated based on my research. This collaborative approach helped create a safe space to share honest stories about vulnerability.
Patterson, president and owner of AMPED, became very ill with COVID-19 early in 2020 and expressed the importance of trusting your team. She knew she didn't have all the answers, but she could set forth a vision and set some goals. "I was sick for several months and had some lingering effects from it. I feel so grateful that we had the right team in place," she said.
Share Lessons Learned
Gerstmann became the executive director of INFORMS during the pandemic. She shared the experience of simultaneously leading, listening, and learning from her new staff and volunteer leaders. She described how important it is to leave room for other people in a conversation. "Had I forced my opinion or asked a question at the very beginning, it would've taken such a different road," Gerstmann said. "It's important to gauge my own hurricane strength."
Bring It All Together
At the end of the panel, I shared advice based on the insights from the panelists:
For leaders who need to reimagine their strategy, identify a common purpose that supporters and dissenters can both agree on.

Adjust the tempo of decision-making and determine when you need to speed it up and when you should slow down.

Respond productively to missteps because we are all going to make them.

Engage in constant updating. It's about progress, not perfection.
I asked panelists how they tackle making decisions in a world where there isn't much margin for error. Mills Clement shared the significance of knowing your values and being able to readily admit when you make a mistake. She emphasized the importance of asking, "How can I make it better?" and then acting on it. "You don't always have to chase perfection," Patterson added.