Why Virtual Events Are a Long-Term Opportunity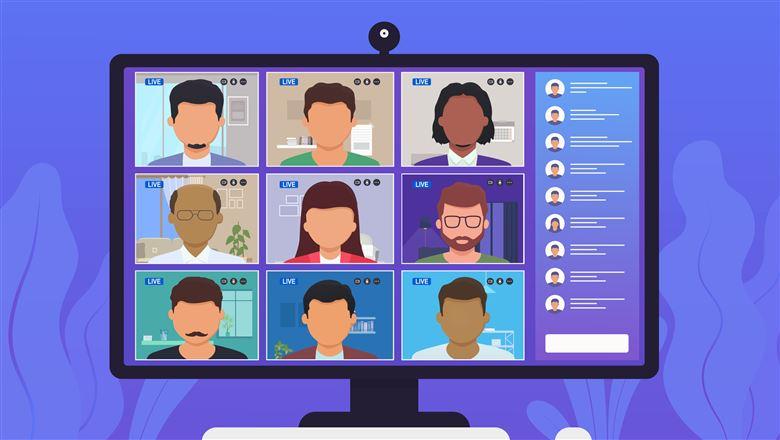 June 2, 2021
By: Greg Vass
Although some associations think of virtual conferences as a temporary solution, they should be considered a part of an organization's long-term engagement strategy.
COVID-19 vaccines offer renewed hope for the safe return of large in-person events, but exactly when that will happen on a broad scale remains unclear. While many organizations are turning to virtual meetings as a temporary solution, it's important to remember they can also be a catalyst for transformative change. As a result, they should be considered as part of an association's long-term strategy.
As executive producer for a video production company based in Chicago, which is the nation's second largest community for associations, many of my clients share that conference-style meetings are critical for bringing their leadership, members, and other stakeholders together to advance policy, projects, and education.
Leading the Virtual Way
Imagine that a disruption to your conference could affect the proficiency of someone whose job it is to ensure healthcare safety. That was a dilemma faced by the National Council of State Boards of Nursing when the pandemic began. NCSBN moved swiftly to shift its series of in-person educational conferences throughout the year to virtual events, since cancelling them was not an option. Though difficult to gather remotely, the virtual option offered several positive outcomes. Among them:
Consistent, professional appearance. Adherence to high standards for audio and video production quality and consistent use of branded graphics resulted in a cohesive look for the entire virtual meeting.
Interactive, live experience. Participants were able to participate and ask questions throughout the sessions, just as they would in person.
Reduced stress. Allowing staff and participants to respectively manage and attend the meeting from their own offices or homes removed the stress of travel, crowds, and living and working in unfamiliar surroundings.
More broadly, NCSBN demonstrates that because an event has always been held in person, it does not mean it cannot be a success virtually. Fortunately, this rings true for others too.
The ability to attract a wide range of prominent figures to inspire a community of young aspiring leaders is an exciting hallmark of the National Society of Leadership and Success. Through its National Speaker Broadcast Series, NSLS provides a rare, in-person forum for its members—college students nationwide—to hear personal stories and ask questions of these larger-than-life icons such as Dr. Bernice King, Matthew McConaughey, and former President George W. Bush. The series was closely approaching its 100th live speaker event when the pandemic threatened to indefinitely shut it down. However, like the heroes played by many of its celebrity guests, the speaker series prevailed, but not without a few changes.
Would proceeding any other way than with the magic of being live and in-studio stifle an event that thrived largely on the allure of in-person interaction with celebrities and motivational speakers? That was the question facing the NSLS team when deciding how to navigate the pandemic. The answer turned out to be no. In fact, many of the changes to ensure "the show would go on" were advantageous to NSLS staff, membership, and attendees:
Staff. What had required a show location with audience capacity, a dozen crew members, and nearly a truckload of production equipment, now takes just a lean three-person team working from a pre-established live-production studio. After receiving and setting up a simple virtual-recording kit, which they ship back when finished, guests are ready for their on-camera appearances.
Guests. The ability to participate without having to travel has received zero complaints so far from the series' guests. In fact, the shift to virtual is attracting more high-profile personalities than usual, which in turn has attracted more interest in the series from NSLS members.
Members. Not only do NSLS members get to be part of an exclusive opportunity to engage with celebrities and other prominent figures, they can also do it from their dorm. Plus, the virtual event allows more members to attend and interact with the guests.
Simply refreshing an event's format can also breathe new life into it. The American Medical Association provides an example of how breaking the mold can be met with unprecedented enthusiasm. In a dramatic departure from past years, the AMA's 2020 Research Symposium not only shifted to virtual, but channeled American Idol in the process.
Under the traditional research symposium format, posters about key research findings usually hang in rows in an exhibit area where attendees tend to view them during session breaks. The new format, the AMA Research Challenge, featured a virtual presentation gallery where attendees and judges viewed and scored entries. During a live-streaming YouTube broadcast, five finalists presented their research and answered questions before an elite panel of medical experts to vie for the top spot.
The willingness to try something so unconventional for a research session drew a record-breaking 1,000 entries, which was a 60 percent increase compared to the prior year's symposium. Plus, the hour-long broadcast, now available for on-demand streaming, has been viewed more than 33,000 times.
Taking the Virtual Plunge
At the time of writing, it took mere seconds for an online search to identify countless examples of recently cancelled events returning virtually in 2021. In other words, if you are gearing up for your first large-scale virtual event, you are not alone in seeking guidance on venturing into this unfamiliar territory. Here are some tips to consider:
Quality is everything. With access to Zoom and Google Meet, it is tempting take a do-it-yourself approach to your virtual event. Before doing so, consider the number of technical glitches you experience during your typical day-to-day virtual meetings—and multiply that by at least 100. A competent vendor will possess the experience and skill to meet your expectations.
If it doesn't need to be live, don't do it live. Live components are always done at the risk of human and technology error, so you do not want to tempt fate more than you have to. Whether in-person or virtual, live shots are best reserved for interactive or special sessions, such as panel discussions, debates, daily recaps, and keynotes. Everything else can be pre-recorded, edited, and inserted during the live production.
Make it interactive. Keep your virtual event interesting with interactive components. Audience polls, trivia, contests, breakout rooms, and live Q&As are all relatively simple to incorporate, yet effective for engagement. They also give people a reason to tune in live.
Get the most from your content. Virtual meetings are usually accompanied by a host of branded graphics, templates, and video, which make for a nice little marketing kit. Use and repurpose these elements in your promotional emails, social media posts, and video teasers.
While there is a unique multisensory element of a live event that a virtual conference will never replace, remote, online technologies have come amazingly far in an incredibly short time. If 2020 is remembered for shutting down our in-person gatherings, 2021 and beyond can be our success story by leveraging virtual meetings as part of a long-term strategy.