What to Consider When Designing Policies for Remote and Hybrid Work Environments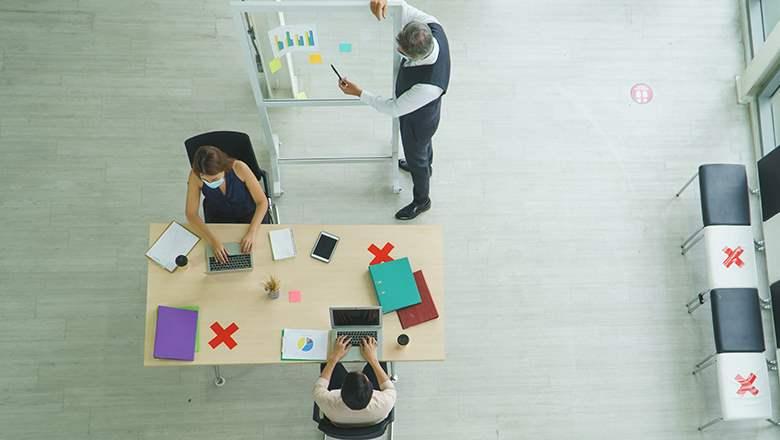 February 1, 2021
By: Patricia Trudeau
For many associations, the pandemic forced staff to work remotely. As HR professionals prepare for the next phase of work, there are several policy considerations to keep in mind as organizations decide whether to stay remote or return in a hybrid office environment.
The ongoing worldwide pandemic has affected how, when, and where we work in ways that we could never have imagined. In addition, we have asked our employees to not only reinvent how they serve members but also to reinvent themselves. Through layoffs, furloughs, and pay reductions, we have asked staff to take on more work and responsibilities with already limited resources.
As HR professionals, we have had to not only adapt to a new environment personally but have also had to help our organizations do the same. For many of us, the new normal means still working remotely for the foreseeable future, while other organizations have already moved into a hybrid work environment and are asking staff to go into the office one to two days a week. While associations will decide on their work environment based on their business needs and budget, what do HR professionals need to consider with both approaches?
Full-Time Remote Work
There are many benefits to providing staff the ability to work remotely full-time. Flexible schedules allow start and end times to vary based on each staffer's needs at home or other personal commitments. No commute also reduces stress and expense and allows staff to have more time in their day. Plus, many employees are more productive when they do not have to deal with the distractions and interruptions in an office environment.
Full-time remote work may also prove to be a benefit that improves an association's recruiting efforts, as well as current employee engagement and retention.
When moving to a full-time remote work environment, there are several items HR staff will need to consider:
An updated telecommuting policy that is compliant with state and local guidelines and acknowledged by all staff.
A standard virtual recruiting and onboarding process that managers have been trained on.
Training to help ensure managers have the tools to effectively manage and communicate with staff in a remote environment.
Regular, informal social events to increase interaction with coworkers across departments.
Virtual training programs to reskill and cross train staff.Working with IT to ensure you have the right remote technology in place.
Hybrid Environment
A hybrid environment could give staff back the balance that many have missed. For example, impromptu conversations and social interactions will be possible, managers will have a better opportunity to recognize when staff are struggling through social ques that can't be seen on a Zoom call, and staff at all levels will be able to connect and learn from one another. Plus, staff will have access to equipment and a dedicated office space. When going back into an office environment, HR will also need to ensure that:
Staff receive proper COVID safety training before returning to the office.
All safety precautions have been taken, necessary PPE is available, and that all work areas have been modified to comply with state and local guidelines.
All organization policies and procedures have been updated to reflect the new office environment and guidelines.
Building management protocols for staff and visitors have been documented and communicated.
Collaboration and communication tools that contribute to business results are updated and in effect.
As HR works through policies and changes with their management team, staff well-being should be a priority. Whether working remotely or in the office, staff are still dealing with increased workloads at home and work, while trying to manage the stress and anxiety associated with a global pandemic. Mental health has never been more important. Providing the necessary tools to support your staff and their needs will be key.
An association's culture and strategy are what will ultimately guide HR in how to achieve the right balance. Regardless of where they are working, a recognized, valued staff will appreciate all of the time, thought, and effort put into their 2021 workplace.