How to Create a Successful Virtual Internship Program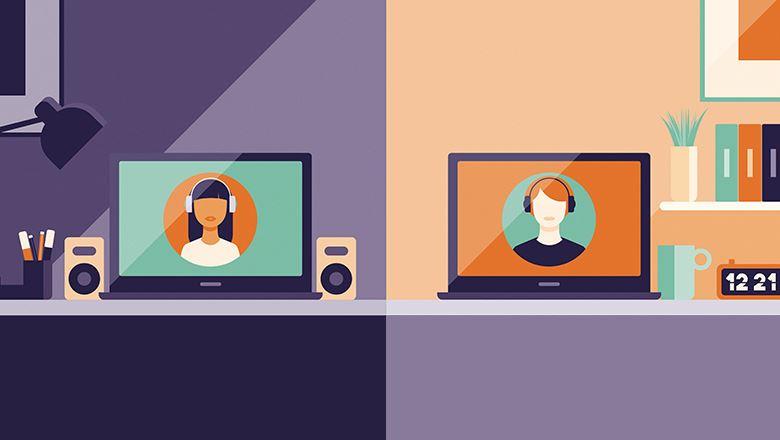 November 25, 2020
By: Palmyra Jackson and Katie Patschke
Find out how one association quickly turned an in-person summer internship program into a virtual one—with changes they plan to continue even after the pandemic is over.
This year, COVID-19 prevented the American Anthropological Association (AAA) from running its in-person summer internship program. In the switch to a virtual version, we discovered how to take advantage of virtual settings to address interns' professional development goals and prepare them for life after college.
Instead of viewing virtual environments as obstacles, it's possible to seize the opportunity to revise an internship program so that it embraces the benefits of virtual work and enhances program goals. At AAA, we focused particularly on new and effective ways to onboard interns and assign relevant work. Here's how we did it.
Restructuring the Program
With interns spread across the country, we began the onboarding process three months before the program started to ensure that interns had the appropriate hardware (computer and webcam) and software (such as Microsoft Office Suite). With the help of our staff accessibility coordinator, we provided virtual accommodations.
We developed a virtual internship handbook, which covered expectations, dress code, and appropriate methods of communication (e.g., email vs. instant messages). The handbook also contained a calendar of important internship and association events, profiles of each staff member, and virtual networking opportunities with our sections, which are specialized anthropology societies that offer mentorship opportunities
As with the in-person program, we matched interns with projects that allowed them to apply their practical knowledge to a professional workplace. Using Microsoft Teams' video conferencing, each intern virtually met with their project supervisor to discuss working hours and project details.
Career development opportunities prepared interns for the job-hunting environment and allowed them to hone their application skills.
Engagement Strategies
As you build your virtual program, consider how interns will be integrated with staff and remain engaged while working remotely. Below are four engagement activities that helped our interns stay connected.
Supervisor check-ins. In addition to meeting every time interns moved onto the next step of the project, we encouraged supervisors to informally check in with interns daily through voice or video calls so that they could ask questions and express concerns. This gave interns a chance to communicate their professional needs and develop solutions with a colleague. It also showed the pace of association projects and taught time-management techniques.
Mentor and department meetings. In a change-up to the program, interns met with mentors and departments weekly. The mentor meetings took the place of informal in-person chats that would have occurred in the office. As with their projects, interns were matched with staff mentors based on their background, career goals, and current interests. Each week, the mentors checked in on the interns, gave them professional development advice, and discussed informal topics. This relationship modeled how a work environment should support employees and helped interns learn professional boundaries. Interns also met with a different department each week to learn how each staff member's individual expertise contributes to the association's success.
Intern connections. We set up an intern team on Microsoft Teams where they could chat with each other and share their experiences. Incorporating a pathway for socialization allowed the interns to connect informally as they would have in-person.
Real-time adjustments. Finally, we continually adapted our program based on the interns' needs, which they expressed in periodic surveys. The surveys asked them to evaluate their workload, staff support, and the relevancy of their projects at the beginning, middle, and end of the program.
Career Development Opportunities
To prepare interns for life after college, we implemented a career development program. Together, each mentor and intern crafted a resume and cover letter based on a job the intern was considering applying for in the near future. Toward the end of the program, interns met with their mentors and project supervisors for a mock interview, with AAA staff playing the part of a hiring committee.
These career development opportunities prepared interns for the job-hunting environment and allowed them to hone their application skills. Final feedback sessions offered both the association and the interns a chance for reflection: Interns shared their overall experience with staff and thoughts about how the association could improve the internship program; staff identified interns' key strengths that they should highlight on their resumes and skills that needed further refinement.
The internship program concluded with an intern-led presentation on their final projects. For the first time, donors to the program and all AAA staff were able to see what the interns accomplished over the summer.
Virtual Internship Outcomes
Conducting a virtual internship program during a pandemic did pose challenges, but it alleviated financial constraints and inspired us to make progressive changes to the internship program overall. Since we did not have to cover housing expenses, we were able to onboard three interns this year. In years past, the AAA has typically hosted two interns per year. And, following positive feedback from interns, staff, and donors, we plan to permanently incorporate the engagement activities, career development program, and final internship presentations into future program iterations, whether in person or virtual.
We encourage other associations to embark on this journey and discover the possibilities that virtual internships can bring.