How to Ensure Your Website Is Inclusive and Welcoming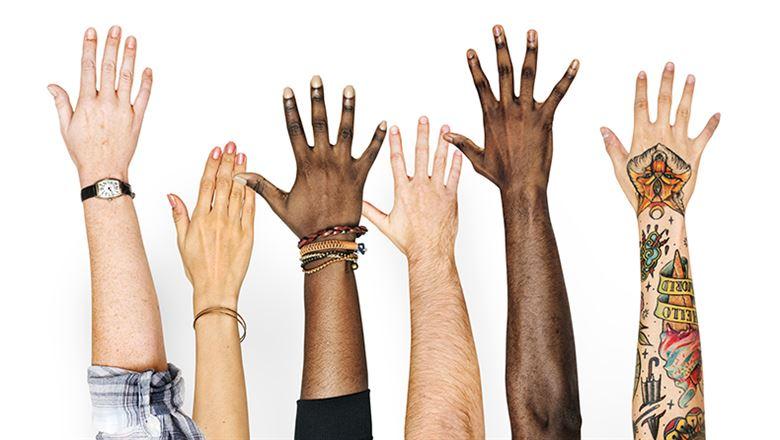 May 6, 2020
By: Nicole Barbuto and Patrick O'Leary
When people visit your association's website, the atmosphere should be one that invites them to stay. Some tips to help your website be inclusive and make users feel at home.
When it comes to websites, people often throw around the term inclusive design. Inclusive design helps us create products and services that are accessible to as many people as possible. When we think about inclusivity, we tend to think about the core accessibility guidelines: color contrast, typography size, and layout. While that's definitely important for any design process, there is an additional, more psychological approach to inclusive design.
When people come to your website, what do they see? Is it a welcoming, inviting space? How do you greet your audience? What are you signaling with your visuals? Visual imagery can reinforce perceptions of who is and isn't welcome to a group. Images of people without care taken in racial and gender representation, or with standards of dress and/or monetary status that signal exclusivity to an audience, can create an impression of a walled community, versus an open one. Additionally, imagery that de-emphasizes people in favor of images of technology (computer screens, abstract technical imagery, etc.) can project a sense of a barrier of competence, or that people without technical skills and/or backgrounds are unwelcome or unlikely to benefit from an association.
Stakeholders tend to want things to be efficient and to collect only the vital data they need. While efficiency and clarity are important, people, however, want access, information, and assistance. If you're asking someone to provide personal information, are you creating a welcoming space to do so? Do they feel comfortable giving up that information?
For example, when requesting to become a member of an association, some common pieces of information requested are name, address, and job title. However, as associations look to collect data for diversity and inclusion purposes—personal information about a member's age, ethnicity, or sexual orientation—it can become more difficult. That's why it's important to make a more conscious effort to create instances of affirmative communication at every touchpoint a prospective member may have with their organization. By using welcoming, very plain language, plenty of whitespace, larger font and buttons, two to three pieces of information requested max per page, offering a picklist with some options being non-specific, and giving a person the option to decline providing personal information, associations can immediately start providing a more welcoming digital environment to their members.
Some other easy ways to create more welcoming digital spaces are:
Use of colloquial and informal language where possible. Site visitors need clear direction and direct communication. If language impresses an internal audience, but means nothing to the external one, then it doesn't function.
Use of positive reinforcement. For example, when a user has completed an application, follow up with an acknowledgement that the information has been received and is actively being looked at and worked on. This benefits the organization by reducing redundant attempts by users to reach out to find the status of in-progress items.
Provide repeated and constant links to translated content. Users may start a process in one language, and not realize that they have language options. They should be able to access these options at any point, without losing their place, and the ability to do so should be highlighted repeatedly.
Avoid system and technical jargon. Visitors should not be called 'users', members should be welcomed and labelled as such, and required information can be clearly labelled in a manner that lets the visitor know they are valued.
When websites offer a welcoming and inclusive digital presence, you're providing an equal opportunity for all users to feel connected to your association and mission. We understand that resources can be limited to provide such an experience, but the very real potential benefit of connecting with your entire donor base, meeting legal accessibility requirements, and reaching new patrons should not be overlooked.