From Diversity to Inclusion to Equity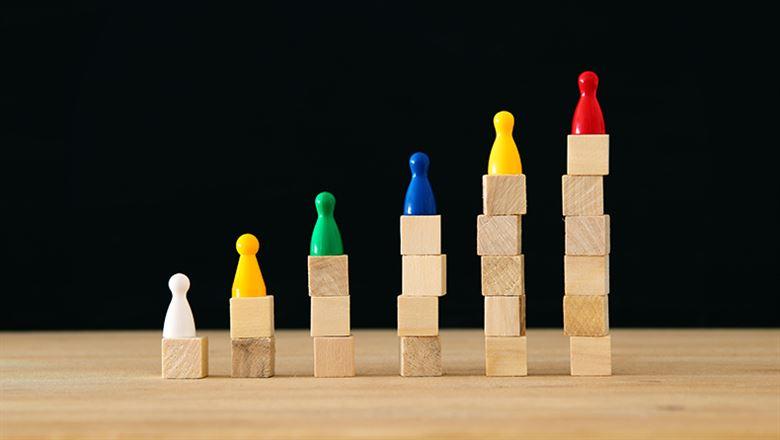 May 28, 2019
By: Brian Haney
Many associations have committed to becoming more diverse and inclusive organizations, but D+I initiatives haven't fully eliminated barriers for underrepresented people. It's time to embrace equity.
Equality is a principle that almost all Americans would say they value. But saying we are all equal doesn't make it so. Legislating it didn't, either. What we need to pursue now is equity.
Equity recognizes that not only do we vary demographically, but not all individuals start from the same place. Some have a head start and more influence than others. Equity assigns the same intrinsic value to each person. Every voice matters, and every voice has weight. Equity is the intentional modeling of a just working environment, one that is self-aware and self-sustaining, engaged in challenging intentional and unintentional forms of bias and discrimination while promoting wholesome, fair alternatives.
Equity is deliberate. When deficiencies are discovered and biases rooted out, equity provides systemic chances for historically underrepresented populations to access growth opportunities. Equity also creates support networks to help close the opportunity gap. Equity fosters a genuine sense of belonging. Apple's diversity statement spells it out: "Humanity is plural, not singular. The best way the world works is everybody in. Nobody out."
It's been over half a century since Title VII, the section of the Civil Rights Act that prohibits workplace discrimination, became law. That historic legislation codified the concept of equality at work, but it hasn't been enough to correct cultural deficits that run deep. Decades later, our society embraced diversity. Diversity refers to the composition of a group, reflecting a variety of demographics, backgrounds, ages, genders, and abilities.
Later, the movement for diversity evolved and shifted toward inclusion. Inclusion is more than tolerance and acceptance: It's a welcoming stance toward underrepresented people. Inclusion moved the needle from talking about change to engaging in it.
But the future is equity: a proportional share of legitimate interest and influence.
How Equity Is Different
Diversity established the concept. Diversity was a sound social and economic notion. To build better workplaces, we needed to move away from cultural homogeny toward variety. Diversity became the "right thing to do," as organizations awoke to a new age of branding that demanded accountability and social responsibility. Diversity became a quantifiable metric worthy of pursuit.
However, as the Workplace Equity Project's 2018 study points out, "Diversity has been criticized as a word that actually softens hard conversation about inequality, to the point where folks in the majority absolve themselves of accountability for changing and confronting their own biases."
Inclusion promoted the concept. Organizations began establishing diversity and inclusion policies and practices designed to welcome variety and value differences. According to Deloitte's 2017 Global Human Capital Trends research [PDF], 78 percent of survey respondents believe D+I is a competitive advantage. Yet according to a recent study of Fortune 500 companies, only 3 percent were transparent about the demographics of their workforce. And at those 16 transparent companies, 75 percent of senior executives are white men. Despite decades of emphasis on diversity and inclusion, companies are still hiding their deficiencies.
Additionally, the myth of a level playing field remains. Opportunity is not something each person can reach up and grasp. For some, opportunity falls out of the tree and hits them on the head; others must reach up and grab it. And for many members of underrepresented groups, accessing opportunity requires a stepladder and a supporting cast of people holding it firmly in place.
Equity lives the concept. Equity requires the hard conversations that recognize where well-meaning attempts at diversity and inclusion still resulted in unequal outcomes. Equity challenges assumptions about what is right, what works, and who should be in charge. No more boxes to check. Instead, equity is a core value and belief that transforms an organization from top to bottom. It says, "Not only are you welcome, but you are vital to our success and we need you."
Where Is Equity in Action?
We have yet to see a gold standard for equity. While many organizations have taken strides in the areas of diversity and inclusion, few have created an equity framework that others can follow.
Opportunity is not something each person can reach up and grasp. For many members of underrepresented groups, accessing opportunity requires a stepladder and a supporting cast of people holding it firmly in place.
But one well-known company has demonstrated a commitment to core equity principles. Apple's resolve is evident in its culture of innovation, organizational values, effectiveness of leadership, and the pride and camaraderie experienced in its workplace. It's worth taking note of Apple's journey toward equity.
Apple's belief in equity permeates its corporate culture, driven by the idea that "diverse teams make innovation possible." In a rich and detailed area of its website, Apple boasts many accomplishments in its initiative to diversify its workforce: For example, it reports that 45 percent of leaders under 30 are women and that over the past five years, more than half of the company's new hires were from historically underrepresented groups.
To propel its efforts, Apple created Diversity Network Associations, workplace communities centered on shared interests and beliefs. For example, the Apple Veterans Association welcomes those who have served in the military and their families, and the Apple Muslim Association provides the company's Muslim employees with resources and support.
Apple also declares that "we believe that LBGTQ+ rights are human rights." The company is rated one of the Best Places to Work for LBGTQ Equality by the Human Rights Campaign. It has received a perfect score on HRC's Corporate Equality Index for 16 consecutive years.
But Apple's most noteworthy achievement is its compensation. According to its diversity report, "We have achieved pay equity in every country where we operate—women earn the same as men. In the United States, underrepresented minorities earn one dollar for every one dollar white employees earn." As part of its commitment to pay equity, Apple stopped asking candidates about salary history.
Diversity, inclusion, and equity are a part of Apple's DNA. That's where associations need to go, and compensation may be an ideal place to start. Organizations may not be able to change the demographics of their workforce overnight, but they can pay people fairly. Equal pay may be a simple budget discussion, while other elements of equity may be tougher conversations.
Ultimately, for equity principles and values to take root, organizational identity needs to change. This shift moves organizations away from excitement, interest, and social pressure toward action and systemic engagement.
No, associations aren't Apple, and there is no silver bullet. But we can learn from a market leader, take ownership, and create a plan to take steps to become more equitable organizations in a more equitable America.