Rethinking Volunteer Pathways for Members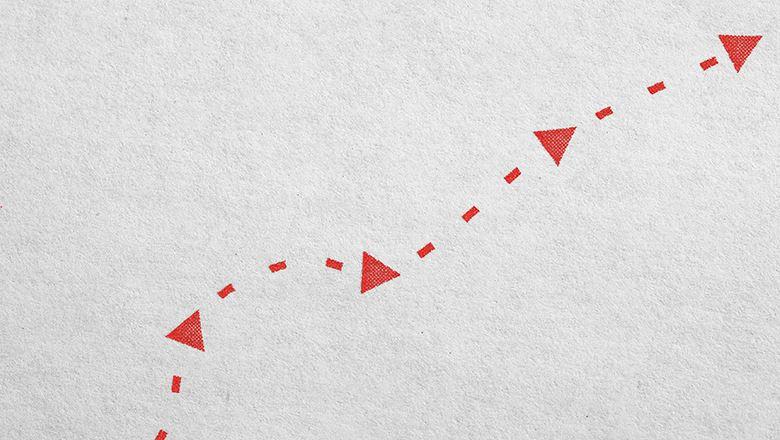 December 14, 2017
By: Lindsay Currie
The traditional model of volunteering doesn't always work for members, especially if you have a global network of chapter affiliates. To reinvigorate and reinvent the volunteer experience, one association created a new volunteer pathway.
I started volunteering at a young age. My parents were heavily involved in our community, and I saw firsthand the sacrifices they made to give back. They worked full-time jobs, were parents, and still found time to make the community a better place.
That left an impression on me and drove me to volunteer. It wasn't always easy to find the right opportunities, and I also had to make sacrifices, but I knew how important it was to do the work. I still approach my volunteer opportunities the same way, but now I also work with volunteers and rely on my years of experience to inform strategies and tactics that help to make their work feel valuable.
But I realized that my staff did not have this same background. While they work with our volunteers daily, they lacked the understanding of what it feels like to be a volunteer.
Knowing how important that lived experience is, I encouraged my staff to take on volunteer opportunities and offered my full support, advocating for the time and budget for them to do so. I wanted them to see firsthand how volunteering could be mutually beneficial to the host institution and the individual. I believe this has allowed them to better understand how to serve our volunteers, creating more diverse engagement points that anticipate motivations, frustrations, and the desire to do more.
It is critical to continuously evaluate your association's methods and practices. Volunteers are the lifeblood of an organization, and you don't want comfort to lead to tired and worn out programs. If associations are going to be ahead of the curve, they need to be striving to gather diverse viewpoints to inform decision making and broaden participation. I knew that the Regulatory Affairs Professionals Society needed to do a full evaluation of the current system and begin to look toward the future of volunteering with our members, many of whom are at the chapter level.
The RAPS team drew heavily on our own experiences to rethink our volunteer pathway, and we used that to ask some very important questions about where we wanted to go:
Would I be able to make the time commitment I am asking a volunteer to make?
Would I allow my own staff to pursue this opportunity?
Would the rewards and recognition program appeal to me and those I volunteer with?
As a working mother, the old-fashioned ladder-climbing volunteer model never suited my needs, and my team recognized it failed to do so for most of our potential volunteers. The needs of a volunteer and the time they must commit to the organization will change over time. We strove to create a system that was horizontal rather than vertical and could meet members where they are. This allowed volunteers to move up or down in a way that met their needs but maintained that all important connection to the RAPS community. This approach would lead to greater member engagement, while still allowing them to develop their skills, and create a more qualified pool of volunteer veterans.
The RAPS team drew heavily on our own experiences to rethink our volunteer pathway, and we used that to ask some very important questions about where we wanted to go.
We worked to identify common obstacles that prevented volunteering. One of the biggest challenges was the financial investment required to volunteer. Many qualified and valuable candidates were simply unable to participate because their organization would not sponsor their participation, and they were unable to absorb the costs of travel and lodging themselves.
By limiting the volunteer pool to those who could secure funding or pay their own way, we were narrowing participation to a small subset. We decided to condense key, in-person trainings to a single annual leadership course and to fund travel expenses. This decision has led to broader volunteer participation with a more tightly-knit, diverse group, which has grown from 500 volunteers in May 2016 to 1,800 volunteers today.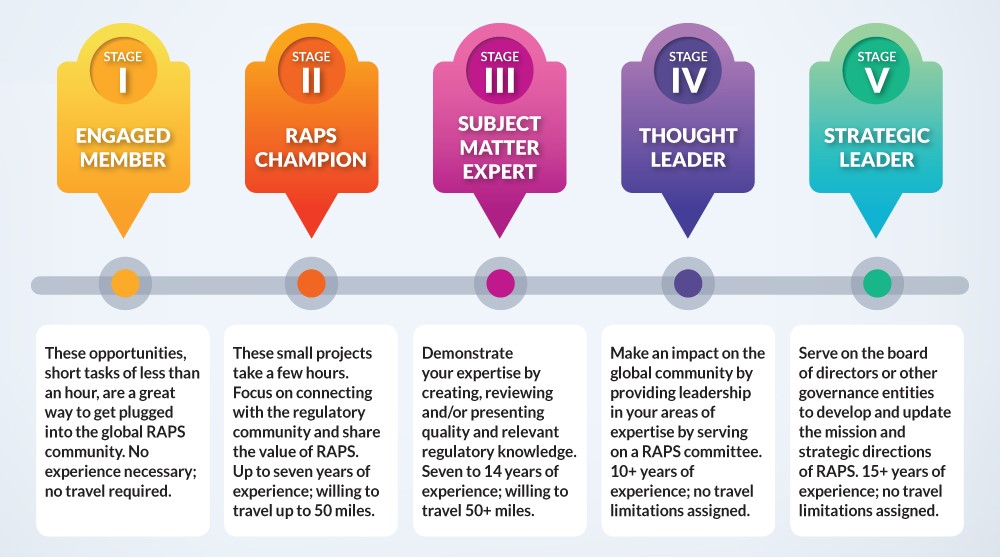 We also found that long commitments are off-putting to first-time volunteers and professionals who have competing priorities. To make sure that anyone who raises his or her hand has a chance to contribute, we began looking for ways to incorporate microvolunteering into our pathway. Examples of these opportunities include: serving as a photographer at a chapter event (2 hours), testing a new webpage (1-2 hours), or leading an online discussion within our members-only community (30 minutes). We wanted to make sure there were short-term avenues to provide meaningful contributions. We identified strategic ways volunteers can pop in and out of the volunteer pipeline as their schedule permits.
Associations have a unique opportunity to serve the interests of their members while creating community. We want our volunteer opportunities to incorporate multiple viewpoints, connect people to one another in meaningful ways, and serve the development goals of individuals. As we do this, the challenge is to ensure we are serving the whole community. The volunteer pathway we created is a functional blueprint to achieve those goals. I challenge you to examine your own volunteer programs because the future your association depends on it.