Destination: Memphis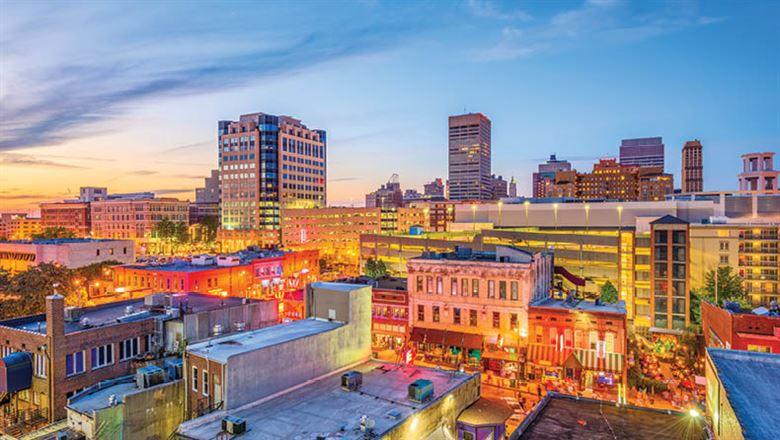 Associations Now January/February 2019 Issue
By: Samantha Whitehorne
Memphis combines accessibility and a downtown convention center with rock 'n' roll history.
• Central convention center. The Memphis Cook Convention Center, located downtown with views of the Mississippi River, features 31 meeting rooms, a column-free main exhibit hall with more than 125,000 square feet of space, and the 2,100-seat Cannon Center for the Performing Arts. In addition, MCCC offers parking for 750 cars and the connected 600-room Sheraton Memphis Downtown Hotel. A renovation is underway and expected to be completed by fall 2020.
• Accessible destination. Few cities can compete with Memphis' central location and easy accessibility. Memphis is located within a day's drive of nearly half the U.S. population, and it's a three- to four-hour flight from almost anywhere in the country.
• Memorable venues. You can't think of Memphis without thinking of Elvis Presley. To really impress attendees, consider hosting an event at Graceland. The recent expansion, featuring eight spaces for meetings, receptions, banquets, and more, allows visitors to experience Elvis' life and career like never before. Private after-hours tours can also be arranged.
Memphis Fast Facts
Recent and future association meetings: Galvanizers Association's 2018 Annual Meeting, JCC Association of North America's 2018 Biennial, Association of Southeastern Biologists' 80th Annual Meeting, Controlled Environment Testing Association's 2019 Annual Meeting
Hotel rooms within one mile of convention center: 3,247
Convention center exhibit space square footage: 125,000
Distance from airport to downtown: 12 miles
What else? The Piggly Wiggly, the world's first self-service grocery store, opened in Memphis in 1916.