Destination: Knoxville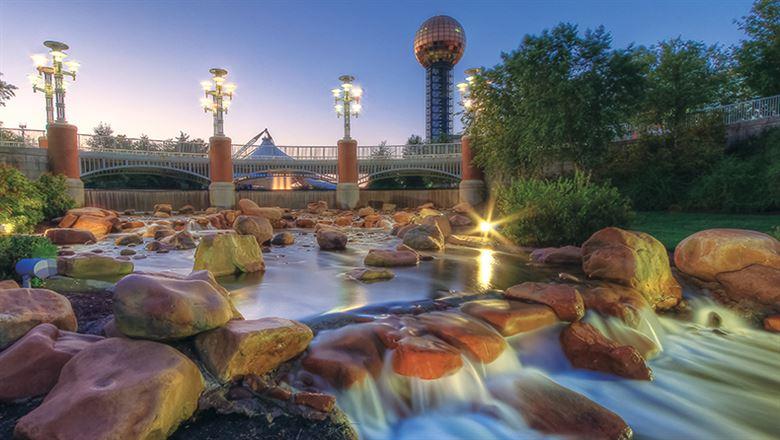 Associations Now July/August 2017 Issue
Tennessee's third-largest city offers meeting attendees history, convenience, and an experience rooted in genuine Southern hospitality.
World's stage. Not many associations can host an event on the same grounds as a former World's Fair, but you're in luck in Knoxville. The 10-acre World's Fair Park is divided into three sections— a festival lawn, a performance lawn, and an amphitheater. The latter—one of the fair's original structures—offers seating for 1,254.
Accessible convention center. The 500,000-square-foot Knoxville Convention Center offers views of downtown. It houses the largest ballroom in East Tennessee—27,000 square feet—as well as a 461-seat lecture hall, 14 breakout rooms, three boardrooms, and state-of-the-art catering facilities. The center also has 250,000 square feet of flexible space and 120,000 square feet of exhibit space.
Options galore. Downtown Knoxville has something for every meeting-goer. More than 75 restaurants, rooftop bars, world-class theaters, museums, music venues, and attractions occupy less than one square mile. The Market Square neighborhood—walkable from the convention center—is lined with local shops and restaurants
Knoxville Fast Facts
Recent and future association meetings: Mid-South Transportation and Parking Association's 2017 Conference, North American Association of Wardens and Superintendents' 2017 Training Conference, Tennessee Grocers and Convenience Store Association's Convention & Expo
Citywide hotel rooms: 9,000
Convention center exhibit space square footage: 120,000
Distance from McGhee Tyson Airport to downtown: 12 miles
What else?: The soft drink Mountain Dew was invented in Knoxville in 1940.