Transform Ordinary Meetings into Extraordinary Experiences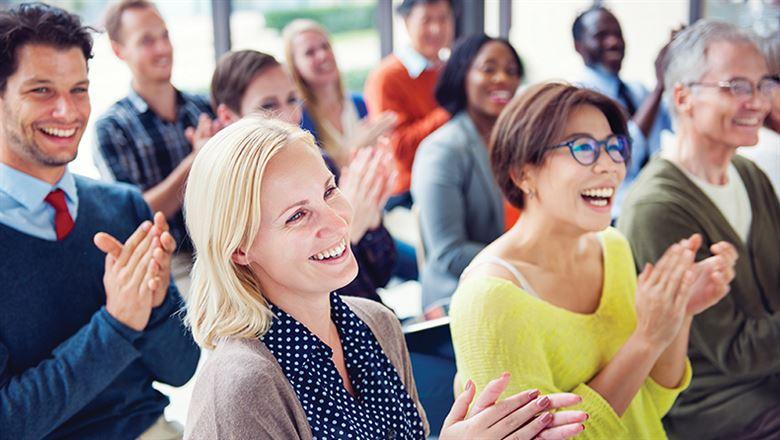 Associations Now September/October 2016 Issue
By: Karla Taylor
When people pay for travel and registration to attend a conference, plus leave work and family behind, they're not looking for the "same old." Instead, they want an experience to remember. Industry experts share five steps to make that happen.
If you haven't already heard of C2, you will. Located in a former arsenal in a cross between an adult playground and a dreamscape, C2 is a three-day extravaganza that drew 6,000 people from around the globe to Montreal in May 2016.
Attendees paid nearly $2,000 each to brainstorm in ball pits, hold brain dates on sky chairs, and make business deals on stationary bikes. They listened to speakers from Grindr, Google, and the Global Poverty Project; the MIT Media Lab and Vice Media; Etsy, Airbnb, and Black Girls Code—and Martha Stewart. They ate from food trucks, gaped at sketching robots, and danced to beatboxers and Dixieland bands. And when they didn't know which of the hundreds of activities to choose next, they consulted their own personal Concierge Extraordinaire.
C2 stands for commerce and creativity. If it sounds like Cirque de Soleil for meeting-goers, that's because the circus company is a founding partner. The organizers promise that the 5-year-old event will "reinvent the business conference as we know it." And they may just be right.
Much as Cirque de Soleil changed what audiences expect from performance, events like C2—along with TED Talks, SXSW, and Dreamforce—are changing what members expect from your association.
Transforming Hearts and Minds
"People hire an event to do a job," says Don Neal, founder and CEO of 360 Live Media. "So ask yourself: What are they hiring yours to do?"
Since attendees are going to the trouble to leave work and family and pay for travel and registration, they obviously want more than they can get from your website or social media. Neal thinks what they would love is an experience that would both influence their behavior and change their hearts and minds. Using that idea as your guidepost, realize this means they are hiring your event for:
A different purpose—one they can only achieve in a live setting, up close and personal.
Different kinds of educators—not just speakers on a faraway podium at the front of a room. They want faculty who actually engage, before and after sessions, to encourage interaction and make connections.

Conceived and executed correctly, your event should draw 15 to 25 percent of your core audience.—Don Neal, 360 Live Media

A different environment. Maybe you can't hang sky chairs from the convention center rafters. But you can replace the tedium of registration lines with the welcome of a "regi-ception." It could feature "greeters" who approach "guests" with registration iPads and a side of cookies and lemonade. And what about providing live music and piping in a lovely scent—maybe the ocean for environmental organizations or fresh-cut lumber at a remodelers convention?
Different opportunities to connect. "Traditional networking events are torture, even if you're a former fraternity rush chairman who knows how to work a room," says Neal. You need to create a community of interest around authentic experiences, such as a crisis simulation or a chance to co-create new solutions.
Why does creating an experience matter? Again, it comes back to the unique potential of live events. Your audiences left their offices in search of something truly different. They're hoping you'll help them find it.
The Crucial Steps
Making your convention measure up is a major challenge, and you can't expect change overnight. But here are five steps you must take to turn your ordinary meetings into extraordinary experiences that keep audiences coming back.
1. Realize change is essential, not optional. From your members' perspective, the need for change is rooted in brain science, says Jeff Hurt, executive vice president of education and engagement at Velvet Chainsaw Consulting. Simply put, spending year after numbing year in hotel ballrooms, they cease to pay attention to what you're trying to convey. "Most conference experiences are status quo—they don't move the needle for performance improvement," Hurt says.
And keep in mind, members no longer need to go to your meetings for information; they can get all they need from the internet. "We're looking for experiences—ones that transform thinking, attitudes, behavior, skills. That's a completely different design process that takes attendees through a completely different journey," Hurt says.
From your association's perspective, the motivation to innovate concerns your business purpose—and even your survival. Hotels, shopping centers, and even mega-churches have morphed into experiences. Too many conventions follow a path of "better sameness—a little better every year," Neal says. "Great experiences today are transforming audiences' ideas for what an event should be."
2. Look for great examples—but don't copy blindly. If Nealhad to give just one piece of advice on how to transform your convention, it would be this: Go to other events that do a great job to see and feel the possibilities for yourself. "Attending an event is worth a thousand PowerPoint slides. Enlightened CEOs do this," he says.
But don't fool yourself. A different ballroom setup isn't all you need. "Saying, 'Tell me what you did so I can copy it'—that leads to failure," says Hurt. "You'll try it for a year and go back to what you've done before."
Instead, think about the big issues first: What is your event's purpose? How should it be integrated with everything else your association is trying to achieve—and what do your members want? And what will keep the results out of the "better sameness" trap?
3. Make the case for climbing out of that rut. Your convention is not just a gathering with a tradeshow attached. It's a strategic asset. It's the way to provide what Neal calls the Six Rs: relevance to your industry, retention for your members, reach beyond your membership, reinforcement for your reputation and brand, revenue—and, of course, return on investment.
Board members and CEOs are recognizing events' potential to build not just income and community but the association as a whole. That's why many freshly hired CEOs come in with a mandate to transform the annual meeting into something entirely different.
4. Find the time and money. Realistically, Neal says, a major change in your meeting will take three years for everything from research to planning to testing to building vital support, internally and externally. And you can't expect to deliver livelier speakers, engaging networking events, and great new experiences on the same budget as your old keynote-and-breakout formula.
Some organizations fund from reserves or raise money from the business community. More cautious groups may try small pilot programs and invest in major changes only when they're confident about what works.
But the reward, in terms of both revenue and reputation, should be great. Many associations draw just 5 to 7 percent of their members to traditional conventions, Neal estimates. "If 90 percent of your audience isn't coming to your Super Bowl, it's not the Super Bowl." Conceived and executed correctly, Neal says your event should draw 15 to 25 percent of your core audience.
5. Truly commit. The risks that accompany change are scary. But if your conference—one of your association's most significant assets— is dying a slow death, the biggest risk is to stay the same.
Your association's desire for its own transformative experience is key—whether it grows out of a board or CEO mandate, or even a significant threat to your organization. "If the desire is there," Neal says, "it's not hard. It's energizing and fun."