CAE Study Guide 2023 (digital book & practice exam)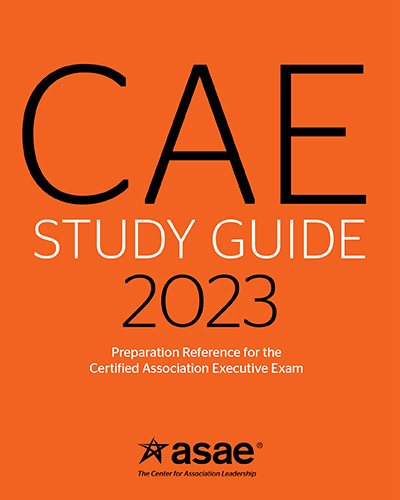 Product Information
Description
Design your study plan and prepare effectively to earn the prestigious Certified Association Executive (CAE) credential. The 2023 edition updates the previous material with a revamped format and new features. Designed to work in concert with CAE Core Resources, this guide is an essential companion to study group and study course work you will want to incorporate into your preparation.
Improvements to this edition of the CAE Study Guide include
streamlined, easy-to-navigate content designed to help you create your study plan
CAE knowledge domain summaries that provide an overview of each area of study and related critical competencies
guiding principles and key terms for each CAE domain, with references to CAE Core Resources
new study questions in each study domain, with citations to CAE Core Resources
suggested readings aligned to the current CAE Core Resources by CAE content domain
test prep and exam-day tips
access to the practice exam
The CAE Study Guide is by CAEs for CAEs-to-be. Make it part of your study program today.
Note: A copy of the CAE Study Guide is provided to participants of the CAE Kickoff course as part of their registration.
The ASAE CAE Study Guide is independent of the CAE certification program, which is governed by the CAE Commission, an independent certifying body of ASAE. CAE Commission volunteers and CAE staff are not involved in developing any preparatory program or material, and no preparatory program is endorsed by the CAE Commission nor is a prerequisite to earn the CAE.
Purchased copies of this digital version will be accessed through ASAE Bookshelf. Bookshelf is a digital web- and app-based book platform that provides more tools and accessibility features than a traditional PDF. Once purchased, a link to access the digital book will be available in the Downloads and Subscriptions section of the purchaser's ASAE online profile. This link is non-transferable and not shareable. It is unique to the purchaser. If you wish to purchase multiple copies or buy a digital copy for someone else, please contact books@asaecenter.org.
(2023, digital book)