Benchmarking in Association Management: 2018–2019 Policies and Procedures, Vol. 2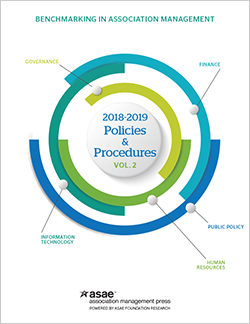 Table of Contents
Product Information
Description
Compare your association's practices against others of similar size and type. This resource focuses on key considerations in five functional areas of association management. The data, collected from responses to the ASAE Foundation's Benchmarking in Association Management surveys, gives you a firsthand look at what other organizations are doing in those areas.
Responses are tabulated by organization type—professional and trade—and by budget size. Compare your organization against similar organizations to identify potential areas for improvement; set target goals; or justify FTEs, policies, operational efforts, and more. This volume contains more than 100 tables of industry-specific data in the following subject areas:
governance
public policy
human resources
finance
information technology
Volume 1 includes these subject areas: membership, component relations, marketing/communications, public relations, meetings, professional development/education/learning, credentialing and publications.
Questions? Email benchmarking@asaecenter.org.
(2019, ISBN: 978-0-88034-403-6, 86 pages, PDF)