The Role of the Interim CEO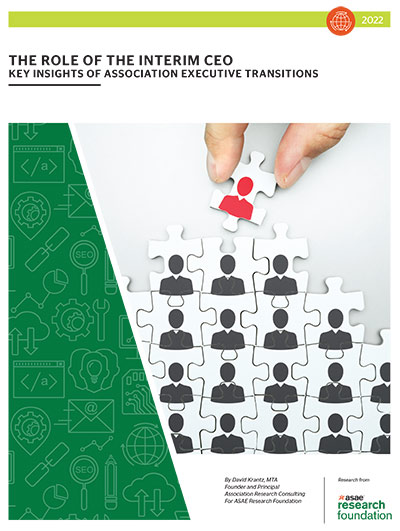 Product Information
Description
An interim CEO is a valuable resource during a transition for many associations. This report from the ASAE Research Foundation uses case story evidence to show how an interim CEO worked for a variety of associations and highlights how effective transitions aren't just about the interim. The board of directors, staff, and the subsequent CEO all have key roles in making the transition a success.
Drawing on the included case studies from diverse associations in a variety of transition situations, the report identifies common factors for success—for both the interim CEO and the organization. The findings will help interim executives, board members, and other stakeholders define expectations and prepare for a period of change.
The report is a valuable resource to include in succession plans, and it provides critical food for thought for professionals working as interim executives, those who think they might want to be interim executives, and staff and boards of directors in organizations undergoing executive transitions.
Note:This product is a downloadable PDF file. After your purchase, you will be presented with the PDF for download. You will also be able to access the PDF for 60 days from the date of purchase in the "My Downloads" section of your profile on the ASAE website.
(2022, 53 pages, PDF)