Association Content Strategies for a Changing World (PDF)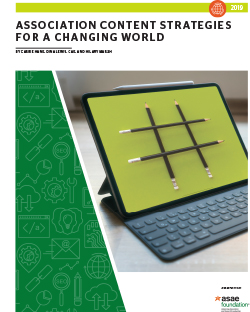 Product Information
Description
Association Content Strategies for a Changing World (PDF)
Help your association better connect with members with data from the largest study of association content strategy to date. With responses from more than 600 association professionals, this report provides guidance on critical content strategy tactics and steps association professionals can take to advance their organizations' efforts. Topics covered in the report include the following:
the most valuable content strategy tactics for small staff, professional, and trade associations
descriptions of different levels of content strategy maturity found in associations
common pain points—and how to overcome them
advice from association professionals who have tackled content strategy in their organizations
Whatever your role in content creation, management, or strategic decision making, you'll come away with useful insights and ideas you can implement immediately.
Note: This product is a downloadable PDF file. After your purchase, you will be presented with the PDF for download. You will also be able to access the PDF for 60 days from the date of purchase in the "My Downloads" section of your profile on the ASAE website.
(2019, 72 pages, PDF)