Association Law Handbook, 6th Ed.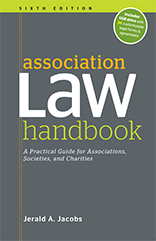 Product Information
Description
Written in plain English, Association Law Handbook is the definitive practical legal guide for volunteer leaders and staffs of membership and other nonprofit organizations. Designed for ease of use, it enables you to quickly understand and navigate virtually every aspect of law affecting membership organizations—including current corporate, political, antitrust, and tax law—and to avoid potentially costly mistakes.
Revised to reflect the latest developments in nonprofit law, this new edition—now containing 100 chapters—includes updated case citations and all-new chapters on critical topics:
the board-management relationship
harassment
nonprofit organization copyrights
nonprofit joint ventures
employee versus independent contractor distinctions
personal data protection
Also included are 34 customizable legal forms and documents—the ones associations need most—loaded on a USB drive.
This handbook is an essential resource for those preparing to become Certified Association Executives and a must-have reference for association and other nonprofit leaders.
(2018, ISBN 978-0-88034-398-5, 640 pages, hardcover and USB drive)