The Association CEO Succession Toolkit: A Preparation Guide for Leadership Transitions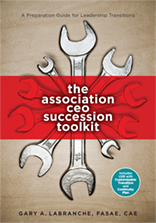 Product Information
Description
Even though the average CEO stays in his or her position for just seven years and 40 percent of association CEOs are either at or approaching retirement age, many associations do not have up-to-date transition and continuity plans. Boards of directors have a fiduciary responsibility to ensure the continuity of the organization, and the CEO has the responsibility to assist. Succession planning should begin well before a CEO decides to leave. That's where this resource comes in.
The Association CEO Succession Toolkit will assist CEOs and board members in developing and maintaining a transition and continuity plan. Informed by insights and examples from CEOs, board members, executive search consultants, and others, as well as his own experience with transitions, author Gary LaBranche has developed this practical resource, which provides
considerations for different types of transitions—leaves of absence, unplanned exits, and voluntary resignations
what-to-do-next checklists for handling various transitions
tips on the executive search process, succession strategy, and onboarding
a customizable transition and continuity plan on accompanying USB drive.
Help your association transition effectively through its next CEO succession by using the tools in this book to plan ahead.
(2018, ISBN 978-0-88034-396-1, 125 pages, soft cover and USB)