The New CEO's Guide: Advice for the First-time, Aspiring, or Current Association Executive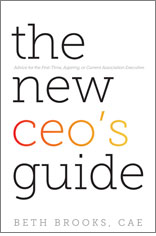 Product Information
Description
The first days, weeks, even year for a new CEO are critical. There's not really time for on-the-job training. You'll likely walk in the door and confront a host of things--board meeting preparation, forthcoming conference, complex contracts--that have to be dealt with immediately. And, you know what they say about first impressions, right? This initial honeymoon period can set the stage for long-term success or a much earlier departure than what you had in mind.
The New CEO's Guide
will help you prepare whether you're a first-time CEO or transitioning to a new organization. Author Beth Brooks, CAE, who has served as CEO for two organizations and counseled many CEOs in her role as president and CEO of the Texas Society of Association Executives, provides experienced-based insights on
orienting your board to its work
undertaking the role of CEO
working with association staff
tackling financial and legal issues, and more!
Rounding out this resource is a section containing advice from experienced CEOs and a handful of helpful documents such as a sample board agenda, board meeting evaluation form, and sample CEO evaluation.
(2016, ISBN 978-0-88034-380-0,160 pages, paperback)