Road to Relevance: 5 Strategies for Competitive Associations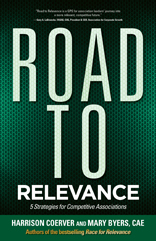 Product Information
Description
Use insights from
Road to Relevance
to help move your organization to greater discipline, focus, and value. Framed by five key strategies,
Road to Relevance
is a guide to competitive advantage. The five strategies and related disciplines are clearly defined, and their execution is explained and illustrated through examples.
Among other takeaways, you'll learn
how to identify strengths that deserve a concentration of resources
the value of a coordinated product and service portfolio and how to achieve one
the negative effect that marginal or underperforming activities have on your organization and ways to abandon them
Road to Relevance
is the followup and complementary companion to the bestselling
Race for Relevance: 5 Radical Changes for Associations
, which identified six challenges that forever changed the association environment and five needed changes. Picking up where
Race for Relevance
left off, authors Harrison Coerver and Mary Byers, CAE, provide real insight into how to adapt the strategies of
Road to Relevance
to your organization's circumstances so that you can execute them. Case studies, adaptable examples, and provocative questions are included throughout
Road to Relevance
to help you work through these strategies.
Association leaders must be disciplined strategists, focusing the organizations they serve on value they can deliver and structuring accordingly to compete in the "new normal." Use insight from Road to Relevance to lead your organization to an ever-more-valued, sustainable, and relevant future.
(2013, ISBN 978-0-88034-356-5, 176 pages, hardcover)
Quantity discounts:
10-49 copies 10 percent discount
50-99 copies 20 percent discount
100 or more copies 30 percent discount