Forecasting the Future of Meetings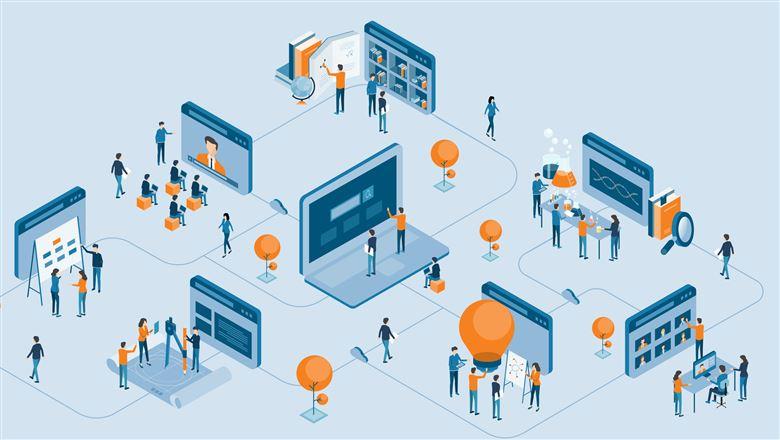 August 10, 2021
By: Jenny Nelson
The pandemic upended expectations for association meetings. An updated ASAE ForesightWorks action brief looks at how meetings and other events might evolve from here.
The future of meetings used to involve robots. The ASAE ForesightWorks "Virtualized Meetings" action brief, developed in 2017, forecasted that future meetings would need to account for telepresence robots that would allow attendees to navigate the event remotely. In addition, the brief forecasted that virtual and augmented reality platforms would offer attendees new engagement and networking opportunities. Society was in the early stages of moving toward that future, but the forecast was for rapid growth and acceleration.
And then the pandemic hit, and the mass movement to virtual meetings happened with the tools at hand—and these tools generally did not include robots.
That 2017 action brief has been recently updated to reflect the changes in the environment, with new data and supporting trends and new forecasts for the future. Now called "Hybrid Meetings," the action brief will be released later this month. Here's a look at what's included.
Forecasts for the Future
Face-to-face meetings will not go away, but how associations deploy in-person meetings may shift. Networking and experience have long been valued components of in-person gatherings, and they may become the central functions of in-person meetings and conferences moving forward. The educational components—at least those that don't require hands-on training—may increasingly take place online.
Professionals have become familiar with the ups and downs of Zoom, Teams, Google Meet, and other platforms, and tech companies have been learning too. As a result, new platforms will be developed to better support the functions of virtual gatherings and to fill in gaps where current systems fall short.
The pandemic accelerated the trend toward virtual and hybrid meetings far beyond most expectations, but it also gave leaders a chance to experiment.
A particular challenge ahead is the hybrid meeting—meetings where some people gather in-person and others join virtually. Whether such meetings are large or small, attendee experiences are often imbalanced. Technology focused on supporting collaboration, discussion, and decision-making could make hybrid and virtual meetings more effective and engaging for all participants—and will create a new demand for meeting consultants with hybrid and virtual meeting expertise.
Finally, don't be surprised if robots show up at future meetings. As hybrid meetings become more popular and technology becomes more accessible, telepresence robots will provide a different route to remote engagement. And it won't be that weird: After so much time talking to colleagues primarily on screens, chatting with them via robot will probably feel less strange than it would have seemed previously.
What to Do Now
The pandemic accelerated the trend toward virtual and hybrid meetings far beyond most expectations, but it also gave leaders a chance to experiment. Now is the time to capitalize on lessons learned by taking the following steps:
Dig into your meeting data. Compare virtual and in-person meeting data and feedback. Look at virtual meeting data that you might not have been able to collect for in-person meetings, like attendance for different sessions. What new directions or opportunities do the data suggest?
Maintain new connections. Many organizations saw their new virtual offerings come with a jump in first-time attendees or expanded engagement. Consider how virtual or hybrid offerings can cultivate continued engagement with international members, members in distant states, or early-career professionals who might not have considered themselves the target audience for traditional meetings.
Keep in mind that virtual is here to stay. Association professionals got a crash course in what does and does not work in a virtual meeting environment. Some meetings or learning offerings won't translate well to a virtual space, while others could with additional planning and support. Use lessons learned to define when a meeting, learning offering, or other event should be hybrid or virtual. Design a better, more effective portfolio of hybrid- and virtual-specific offerings to ensure they meet the same standards and provide the same return—or better— to attendees as similar in-person offerings.