Use a Data-driven Approach to Navigate Your Return to Office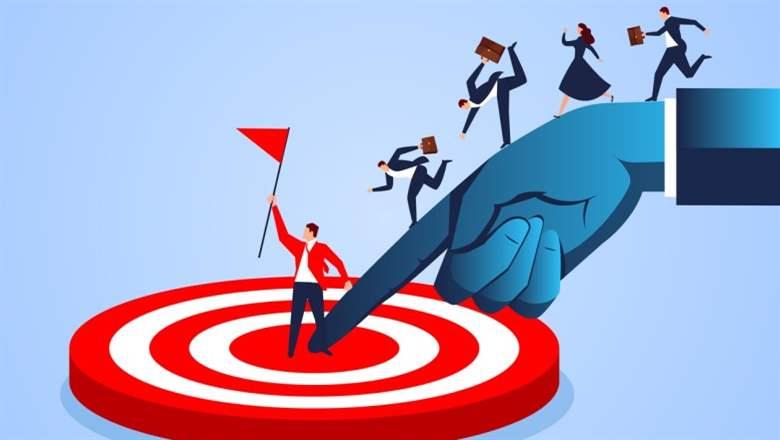 July 26, 2022
By: Suzanna Kelley, Michelle Martin, and Angela Ramer
McKinley Advisors knew they needed to revamp their offices for when staff returned following COVID-19 closures. They surveyed staff and integrated feedback, redesigning the office to meet "digital-forward" needs.
The COVID-19 pandemic has been a catalyst for a change in the workplace. Throughout the pandemic, association staff have shown that they can work from anywhere, but questions remain about important and often less-visible topics like mental health and work culture. And because the United States is experiencing one of the most demanding talent markets in decades, associations must stay responsive to the evolving employment context and engage staff to better inform decisions about return-to-office policies and norms.
McKinley Advisors, an association consulting firm, embraced this challenge as an opportunity. Using a research-based approach, their Future of Work initiative leveraged staff surveys, leadership visioning work sessions, and interviews to create digital-forward staff policies and transform their Washington, DC, office into a hub for collaboration and community. McKinley and HKS, a global design and strategy firm, offer up three lessons learned as part of their workplace strategy and renovation planning process.
Authentically Inquire
McKinley partnered with HKS to re-envision how its consultants and researchers use the physical office space. Building on a year's worth of existing COVID-related staff surveys, they developed another broader-ranging survey to assess employee office perceptions, expectations, and experiences. Questions ranged from the pragmatic to the experiential to capture the honest reality of what an office means to employees as part of their larger work experience:
How frequently do you come into the office?
What are some reasons you go/need to go into the office to work?
What amenities do you need to support your best work experience?
What is your preferred work arrangement (e.g., partially remote, entirely in office)?
What are some of the biggest concerns you have about hybrid or remote employee experiences?
What feedback do you have for the current office space (e.g., size, layout, space types, etc.)?
Assess and Identify Opportunities
The results of the survey identified in-person team collaboration and professional development as primary drivers for coming into the office. In translating insights like these to design impact, HKS provided McKinley with multiple scenarios for how they could leverage their existing space in new ways to create a "virtual-forward" workplace.
The HKS team developed a phased plan that kept McKinley within its desired budget and return-to-office timeline, combining design interventions with new processes and policies. Some recommendations were bold, such as removing workstations to free up space for a new collaboration zone, while others were more subtle, including reallocating an office into a casual lounge-style teaming room. These proposed solutions also helped to realize new McKinley work processes and organizational culture, such as "anchor days" where staff are encouraged to come in for workshops and team meetings once a month.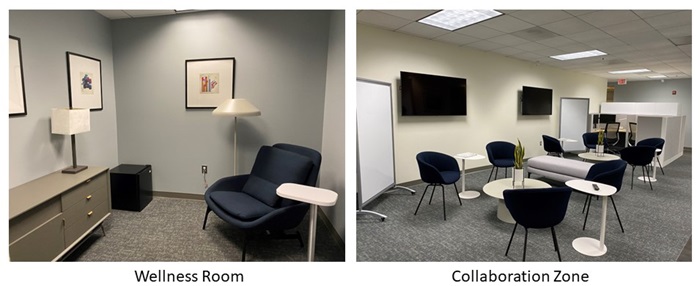 Embrace Change and Shift as Needed
After the final changes were in place, staff had the opportunity to engage in the space during an all-hands staff event in February 2022. To close the design and feedback loop, HKS sent a post-intervention staff survey. The feedback received affirmed that employees enjoy the balance provided between working from home and an updated, collaboration-focused office environment. They also identified improvements that could be made for both immediately and with future investment. As a result, McKinley will improve signage communicating new room types and functionality, provide training on new technology, and continue to offer engaging programming and events to encourage in-person attendance on anchor days.
As one McKinley team member explained, "As much as we have shown we can be productive at home, having a core office provides a needed foundation. For me, virtual interactions can't replace an in-person one. It's hard to anticipate how the office will be used or want to be used as we continue to emerge from the pandemic."
However, the key is to take or make moments to meaningfully engage with staff and commit to a spirit of continuous improvement as we all navigate this new era together.