Impact Every Day: The Vital Role of Associations in Society (PDF)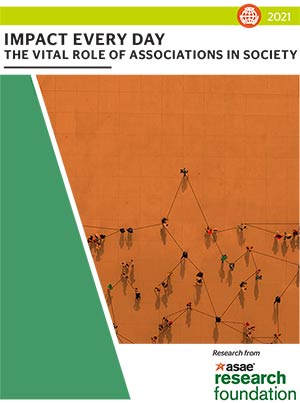 Product Information
Description
Impact Every Day: The Vital Role of Associations in Society (PDF)
Association work advances the industries and professions associations serve but also provides critical support for society. Association professionals have long known this to be true, but Impact Every Day, the collection of findings from the ASAE Research Foundation's centennial research initiative, provides the evidence—as well as applicable information for leaders.
Impact Every Day: The Vital Role of Associations in Society includes all of the data gathered during the centennial research initiative, including
quantitative data rating importance of diverse association activities to association professionals, members, and non-members in the past and in the future
insights on association value and recommendations for improved value from thought leaders outside the association industry
case studies of associations that have worked for the public good that outline their methodologies, their communications strategies, and their assessment of success.  
While the research was designed as part of a celebration association history, the findings focus on identifying opportunities to better support members and society in the future. Whether you're looking for data on key association activities, seeking an external view on the association value proposition, looking for models of associations using data and evidence, or searching for examples of leaders sharing the stories of their impact, Impact Every Day offers a treasure trove of resources.
Note: This product is a downloadable PDF file. After your purchase, you will be presented with the PDF for download. You will also be able to access the PDF for 60 days from the date of purchase in the "My Downloads" section of your profile on the ASAE website.
(2021, 157 pages, PDF)
Authors: ASAE Research Foundation