Associations Innovate: The Journey from Intent to Action (PDF)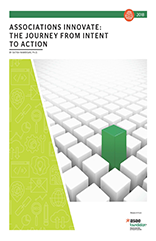 Product Information
Description
Everyone talks about innovation, but making innovation part of an organizational culture remains a challenge for association leaders. This report captures findings from the ASAE Foundation's Innovation in Associations study, which explored how different organizations across the association industry are approaching innovation. The report provides data on association successes and weaknesses in this area, and it examines:
areas of focus for innovation within associations
the components of innovation culture
leadership elements that nurture innovation.
This report offers strategies and practices based on the research findings, as well as insights from association-tested practices, to help you advance innovation and innovative thinking in your organization. With this report, you get the information you need to effect real change for your organization and your members.
Note: This product is a downloadable PDF file. After your purchase, you will be presented with the PDF for download. You will also be able to access the PDF for 60 days from the date of purchase in the "My Downloads" section of your profile on the ASAE website.
(2018, 50 pages, PDF)