Association Global Maturity: Critical Actions for Successful International Growth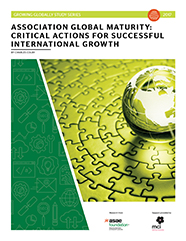 Product Information
Description
Is your association operating globally, or are you thinking about expanding your association's operations abroad? Whether you are just starting to explore holding a conference in a foreign market or have worked globally for years, Association Global Maturity: Critical Actions for Successful International Growth offers valuable information to assess your work and guide your next steps.
Using data collected from a survey of association leaders, this ASAE Foundation original research report provides new insight on association global success, including
an examination of the seven components of global maturity—the key elements that contribute to association success abroad
a look at what the most globally mature associations do differently than most associations
an evaluation of the areas in which the association sector must improve to succeed outside the United States
This report offers guidance on what association leaders must do to advance their organization's international efforts and create long-term success in foreign markets. It is a valuable resource for CEOs and chief global officers looking to assess their global progress and develop strategies for greater success.
Note: This product is a downloadable PDF file. After your purchase, you will be presented with the PDF for download. You will also be able to access the PDF for 60 days from the date of purchase in the "My Downloads" section of your profile on the ASAE website.
(2017, ISBN 978-0-88034-557-6, 32 pages, PDF)