Tech Success for Associations: Balancing IT Maturity, Readiness, and Expectations for a Satisfying, Sustainable Future ( PDF)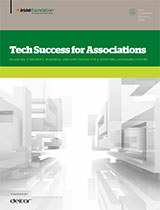 Product Information
Description
Tech Success for Associations
Tech Success for Associations: Balancing IT Maturity, Readiness, and Expectations for a Satisfying, Sustainable Future reveals new information about how associations use technology, provides insight into the technology abilities and expectations of association members, and offers a vision of how associations can prepare for the future. The research, conducted by the ASAE Foundation, gathered data from more than 5,000 association IT decision makers and members to explore technology success through measurement in three conceptual areas:
IT maturity metrics, which look at how well associations use technology to support their organizations' operations and strategic directions and, ultimately, to fulfill their missions
Techno-readiness metrics, which look at member and staff levels of interest and comfort in using technology to inform associations on how they should be applying technology
Member satisfaction with technology metrics, which look at the areas where members believe their associations are succeeding with technology and where they are not completely satisfied with their association's offerings
This report explains what associations need to do to keep up with changes in technology and meet member expectations. It is a valuable resource for CEOs and CIOs looking to assess their technology systems and prepare their associations for the future.
Note: This product is a downloadable PDF file. After your purchase, you will be presented with the PDF for download. You will also be able to access the PDF for 60 days from the date of purchase in the "My Downloads" section of your profile on the ASAE website.
(2016, 23 pages, PDF)