How to Read Nonprofit Financial Statements, Third Edition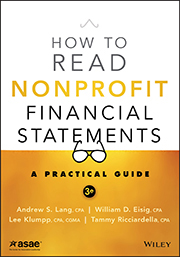 Product Information
Description
Whether you're a nonprofit executive unfamiliar with the language of financial statements or a seasoned pro, this book is the only guide you'll need to correctly interpret those critical documents, refresh your skills, and familiarize yourself with the new nonprofit reporting standards introduced in 2016 by the Financial Accounting Standards Board (FASB).
The intent behind the accounting standards update was to improve the clarity and usefulness of nonprofit financial statements. Those who use and prepare these statements, as well as board members fulfilling their fiduciary duty, need guidance on how to implement and interpret the new FASB standards. Written for both audiences, How to Read Nonprofit Financial Statements, Third Edition
clearly defines accounting terminology and concepts, while offering numerous examples of financial statements reflecting both the old and new FASB standards
steers you, line by line, through financial reports, providing in-depth explanations of the differences between the old and new standards
provides numerous illustrations to help you quickly feel at home with the format of nonprofit financial statements
offers exercises to help you gain insight into the core concepts of nonprofit financial statements and reinforce your command of those concepts
This expanded edition also includes
a new chapter on reserves, a long-standing challenge for nonprofits
a new section on general financial analysis, outlining what readers of financial statements should look for to stay informed and satisfy their responsibility, regardless of their role
a new chapter on benchmarking to help nonprofits measure performance against industry peers
How to Read Nonprofit Financial Statements, Third Edition, is an invaluable resource for anyone who reads, interprets or prepares these all-important documents. Quantity discounts apply during checkout on orders for 10 or more copies, making it more affordable to provide a copy to each of your board members.
(2017, ISBN 978-1-118-97669-2, 272 pages, soft cover)