Association Investment Policies, Practices, and Performance - 2020-2021 Edition PDF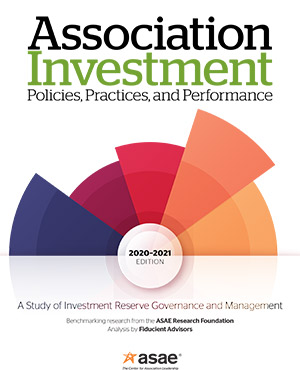 Table of Contents
Product Information
Description
Need help evaluating your association's investment-reserves policy, strategies, and practices? Association Investment Policies, Practices, and Performance was designed to assist you in doing just that, and it has provided clear benchmarks and expert insights for years.
The data in this downloadable report are primarily organized by reserve size and include performance metrics captured in the 2014–2020 studies, as well as policy benchmarks captured in previous studies. Investment advisors from Fiducient Advisors, provide expert insights and a 2019 market overview along with COVID-19 commentary and a supplement with charts related to the impact of the pandemic on associations' reserves. Other topics covered by the report include
investment policy governance
investment strategy
investment vehicles
asset allocation
investment performance
Use the data to identify areas where improvements can potentially be made or that may require further analysis and discussion. Or the data may help you confirm that your organization is implementing effective practices compared to peers with similarly sized investment reserves.
Note: This product is a downloadable PDF file. After your purchase, you will be presented with the PDF for download. You will also be able to access the PDF for 60 days from the date of purchase in the "My Downloads" section of your profile on the ASAE website.

This report is available for free to AssociaMetrics Premium subscribers.
 
(2021, ISBN-978-0-88034-581-1, 58 pages, PDF)