Drivers of Change: Summaries and Forecasts (PDF)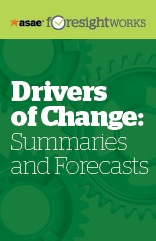 Product Information
Description
What are the trends you need to know about to lead your association into the future? ASAE Foundation research has the answer. This resource provides summaries and forecasts of the drivers of change identified by the ASAE ForesightWorks program. Using a systematic environmental-scanning process, researchers identified these drivers of change as the key trends that are particularly relevant to the work of associations. Most also have relevance to a range of other industries, and even to society as a whole.
For a deeper dive into the trends, four-page action briefs on each of the drivers of change are available as a complete collection accompanied by a User's Guide or in smaller topical sets:
The User's Guide can also be purchased separately.
Note: This product is a downloadable PDF file. After your purchase, you will be presented with the PDF for download. You will also be able to access the PDF for 180 days from the date of purchase in the "My Downloads" section of your profile on the ASAE website.
(2020, 52 pages, PDF)