Technology Readiness Assessment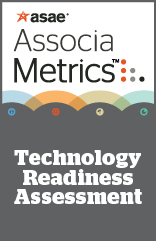 Product Information
Description
IT underpins the lion's share of what associations do, so getting your technology right is imperative. Making a modest investment in an annual check of your tech operations against validated effective practices is well worth it.
ASAE's Technology Readiness Assessment, based on ASAE Foundation research and hosted on ASAE's AssociaMetrics benchmarking platform, guides you through 31 questions. Answer those, and get your organization's overall IT maturity score and performance scores in four major technology-component areas:
data
management and strategy
infrastructure
digital presence
You'll also get a concise report articulating the meaning of the scores, areas of success and opportunity, and links to supportive resources.
The Technology Readiness Assessment was scientifically validated to ensure it covered relevant issues, met accepted standards for reliability and stability, and was a valid measure of technology success. Questions were based on the DelCor IT Maturity Model and then refined through interviews and focus groups with IT professionals. A questionnaire containing key metrics and measures of success was administered to 277 IT decision makers. The instrument was then validated using factor analysis to assess questionnaire organization, Cronbach Alphas to assess scale reliability, and correlation analysis to ensure IT maturity scores track with satisfaction outcomes.
(2017, online tool, one assessment per purchase)