CAE Study Guide 2015: Preparation Reference for the Certified Association Executive Exam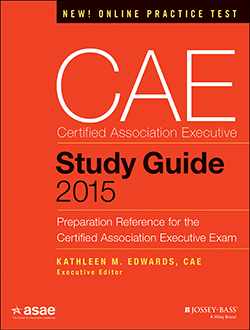 Product Information
Description
Includes CAE Practice Exam!
Design your study plan and prepare effectively to earn the prestigious Certified Association Executive (CAE) credential. Use the included CAE Practice Exam, composed of 100 official questions released from the CAE item bank, to test your readiness!
We combined quality material and study questions adapted from the predecessor Association Societies Alliance CAE Study Guide and study groups with the new practice test questions and other content to produce an ASAE CAE study guide fit for individuals, study groups, and preparation courses.
Highlights of the CAE Study Guide 2015 include
CAE exam content outline
Easy-to-use readiness self-assessment, including ways to identify your learning preferences
Suggestions for mapping a study plan, including elements of a plan and ideas for scheduling reading and preparation across a time line that suits you
Study options
Suggested readings by CAE content domain
Study and discussion questions by CAE content domain
Legal review section
Key terms and glossary
Ideas for tackling areas of difficulty
Last-minute prep and test tips
And of course, the practice exam
Use the CAE Study Guide as a complement and guide to your preparation or as a resource for a study group or course you may be facilitating.
Note: A copy of the CAE Study Guide is provided to participants of the CAE Kickoff course as part of their registration. Also, the 2015 edition was published after the last job task analysis. A new edition will not be published until the next job task analysis is completed in 2019 or 2020.
The ASAE CAE Study Guide is independent of the CAE certification program, which is governed by the CAE Commission, an independent certifying body of ASAE. CAE Commission volunteers and CAE staff are not involved in developing any preparatory program or material, and no preparatory program is endorsed by the CAE Commission nor is a prerequisite to earn the CAE.
(2015, 360 pages, soft cover, ISBN 978-1-118-86520-0)