ASAE Handbook of Professional Practices in Association Management, 3rd Edition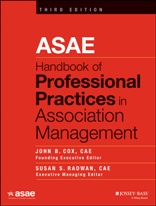 Product Information
Description
This edition has been replaced by the updated Professional Practices in Association Management, 4th Edition, available from the ASAE Bookstore. The book covers all the primary areas of association and nonprofit management. One of five core resources for those preparing for the CAE Exam, Professional Practices in Association Management is considered a cornerstone publication of the body of knowledge of association management. With additional emphasis given to the Chief Staff Executive (CSE) lens in these functional areas for this edition, this handbook is an essential resource for seasoned and aspiring CEOs, senior executives, and every association library.
Many experts contributed to this essential resource. Every chapter in this new edition was updated or is brand new--39 total chapters and nearly 200 more pages of content from the previous edition. New chapters include
A Prescription for a Successful CSE
Managing the Complex Association Enterprise
Business Models and Economic Drivers
Identity and Branding
For a full list of the topics and contributors, view the table of contents.This book is dedicated to the memory of John B. "Jack" Cox, FASAE, CAE, whose vision became Professional Practices in Association Management and whose passionate leadership guided three editions of this work.
(2015, hardcover, 672 pages)