Association Inclusion Index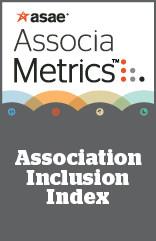 Product Information
Description
Use this evidence-based, self-administering instrument to assess your organization's diversity and inclusion practices and objectives against validated effective practices.
Based on ASAE Foundation research and hosted on ASAE's AssociaMetrics benchmarking platform, the Association Inclusion Index guides you through 74 questions. Answer those, and get your organization's effectiveness scores in five performance domains and their subdomains. You'll also get a concise report articulating the meaning of the scores, areas of success and opportunity, and links to supportive resources.
The Association Inclusion Index was developed using the following questions as guidance:
What are the duties, roles, and responsibilities of nonprofit and association boards of directors, senior staff, and members as they relate to diversity and inclusion practices?
What are the primary performance dimensions that should be evaluated by associations when thinking about the association's current diversity and inclusion practices?
Under each dimension, what are the particular indicators of performance that will inform and demonstrate diversity and inclusion practices?
Extensive research was conducted to find the answers to these questions. The research entailed a review of the literature, best practices, and information related to D+I performance in nonprofit and association management. With this information, various core competencies were organized into five key D+I performance domains in associations:
Domain A: Mission and Focus
Domain B: Roles & Leadership Accountability
Domain C: Resources
Domain D: Operations
Domain E: Communications and Culture
Each of the five domains is supported by 19 subdomains. Index survey questions were developed as performance indicators for each subdomain. These questions, based on the research review, were designed to indicate where the respondent sees his or her association's performance in each particular subdomain.
(2013, revised 2017, online tool, one assessment per purchase)