Association Law Handbook, 5th Ed.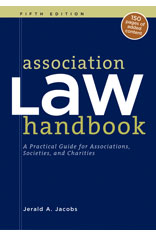 Product Information
Description
Written by a leading nonprofit law attorney, this mega-volume contains everything legal and executive management professionals need to know about association law and outlines it in simple terms,making it fully accessible. No complex legal jargon or phraseology to decipher. At the end of every chapter you will even find a handy resource guide that shows you where to find additional books, articles, cases, laws, regulations, and more. Recently updated to reflect the latest developments in nonprofit law, you'll find chapter after chapter packed with information to keep you in full compliance:
Nonprofit governance reform issues inspired by Sarbanes-Oxley
IRS rules for corporate sponsorship payments
Banned above-market payments to "insiders" of charitable organizations
Antitrust protections for standards development organizations
32 of the most widely used legal forms and documents associations and nonprofits need most, including a chief executive employment agreement, author agreement, and joint venture agreement.
(2012, ISBN 978-0-88034-349-7, 744 pages, hardcover)