Talent Generation: How Visionary Organizations Are Redefining Work and Achieving Greater Success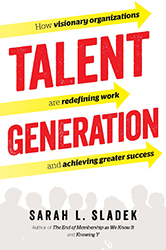 Product Information
Description
The post-industrial era gave way to several new economies—Knowledge, Sharing, and Gig to name a few. Enter now the Talent Economy, characterized by unprecedented innovation, connectivity, disruption, and opportunity and spawned considerably by declining employee job satisfaction, costly employee turnover, shrinking profitability, and the boomer retirement wave.
The need to engage younger generations of talent is widespread and urgent. Leadership is aging and the skills gap continues to grow. Traditional workforce practices are being challenged. Organizations that thrive in the Talent Economy will be people-centric and future-focused.
Drawing from documented workforce and talent-development research, as well as her own ongoing study of generational impacts, author Sarah L. Sladek cites numerous examples of organizations that have successfully engaged employees in this era of disruption—what they did, why it worked, and how it's made a difference to the organizations' outlook and bottom line.
She proves that it's possible to create an organization designed to engage talent, and she provides guidance to do it.
Use insight from Talent Generation to energize talented people, engage their knowledge and creativity, and realize your organization's purpose—whether that's winning the marketplace, advancing an industry or profession, or furthering a cause.
(2017, ISBN 978-0-88034-391-6, 254 pages, hardcover)