The Business of Certification: Creating and Sustaining a Successful Program, 2nd Edition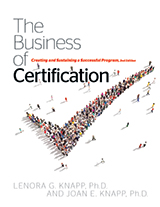 Product Information
Description
The Business of Certification is a roadmap to guide the intricate journey of launching and maintaining a certification program, drawn from lessons learned by the authors working with hundreds of association clients over the past two decades.
Certification programs can be a great opportunity for associations to elevate their profession, close knowledge and skills gaps, and generate nondues revenue. But creating and maintaining a program is a complex, labor-intensive, and expensive undertaking fraught with legal issues and risks.
The Business of Certification analyzes the business issues that are critical to consider before launching a certification program and are essential to successfully managing one. The book is organized into three sections to guide association leaders—CEOs, senior staff, and board members—through every phase of a certification program:
understanding the business of certification
laying the foundation for a successful certification business
managing an established certification business
Bolstered by insights from credentialing program profiles and 29 easy-to-use worksheets to guide discussions and effective planning, The Business of Certification is a must-have resource for credentialing organizations or those considering a certification program.
(2017, ISBN 9780880343893, 208 pages, soft cover)