Race for Relevance: 5 Radical Changes For Associations (eBook)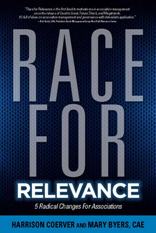 Product Information
Description
Race for Relevance
provides a no-nonsense look at today's realities and how associations operate and what they need to do to remain relevant in the future. Based on more than 40 years of combined experience working with more than 1,000 organizations, the authors examine 5 key areas where the traditional approach that organizations have taken in the past needs to be altered. The 5 key areas of change are:
Overhaul the governance model and committee operations (and get the right people focused on the right things).
Empower the CEO and leverage staff expertise.
Zero in on your member market.
Rationalize programs and services--and focus where you can have an effect.
Get the supporting technology framework right.
The book includes worksheets, checklists, and case studies all geared towards helping association leaders--staff and volunteers alike--to kick off the thought-provoking discussions that are generally at the forefront of change, be prepared for those fighting for the status quo, and to implement change without sacrificing your influence.
Quantity discounts on orders for ten or more copies available at checkout. Order a copy today for all of your association leaders and start your drive to thrive.
(2011, ISBN 978-0-88034-335-0, 168 pages, eBook)
Quantity discounts:
10-49 copies 10 percent discount
50-99 copies 20 percent discount
100 or more copies 30 percent discount
This product will be delivered to you via email along with instructions for downloading the eReader App, BeyondPrint. Please be sure your email address is current in our database. If you would like to order this eBook to be sent to another individual, please contact our member service center at 888.950.2723 or 202.371.0940 to place your order.