Operating Ratio Report, 16th ed PDF Tables for Revenue Category Less than $1M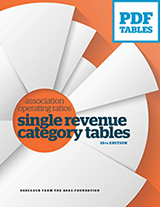 Product Information
Description
Are you serious about evaluating and improving your organization's operations? Extracted from the
Operating Ratio Report, 16th Edition
, this PDF of the tables for the revenue category of less than one million will help you do just that. Evaluate key metrics such as net profitability ratio, operating efficiency ratio, and more against organizations with a similar revenue size.
This report provides revenue and expense information as a total percentage of overall revenue and balance sheet data for organizations with revenue less than 1 million.
This PDF includes the table for stated revenue range only. Upgrade to
Operating Ratio Report Access
or
AssociaMetrics Premium
to access the full PDF report (including the executive summary, a how to use the data section, revenue range tables and helpful appendices), as well as custom filtering. Available filters include: revenue ranges, IRS sections, industry, organization type, staff size, region, metro area, state, and scope.
Review a FAQ for the Operating Ratio Report and details on various product options.
(2021, PDF download, 8 pages)