199 Ideas: Build a Better Board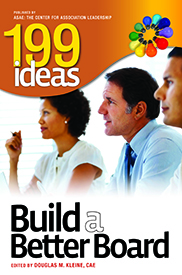 Product Information
Description
Every CEO and every staff member and consultant who works with boards wants to improve the performance and experience of the governing body. And guess what: The governing body wants to be better, too.
Here's a handy compendium of great ideas for anyone who works with boards. Staff will find this little book indispensable. Volunteer leaders—especially chief elected officers--will find the inspiration and the practical pointers immediately useable and ever-useful. 199 Ideas: Build a Better Board covers these areas of helping the board get governing right:
Providing effective orientation
Communicating fiduciary responsibilities
Focusing on policy and strategy
Engaging board members  in the best they have to offer
Improving meeting preparation
Streamlining board meetings
Making board dialogue effective
Ensuring effective board-staff relationships
Enhancing the board member's experience
Turn the ideas in this resource into action in your organization. Culled from ideas shared by CEOs, governance experts, and others--199 Ideas: Build a Better Board will be one of the better investments you make in your organization's governing body.
(2011, ISBN 978--088034-332-9, 88 pages)