Maximum Engagement: Moving Members, Donors, and Customers to Ever-Increasing Levels of Participation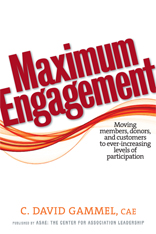 Product Information
Description
You want people to be involved in your organization, right? You want the engaged to stay engaged, the not engaged to become engaged, and the somewhat engaged to become highly engaged. Right? Here's a practical book from David Gammel, CAE, author of another ASAE title,
Online and On Mission: Practical Web Strategy for Breakthrough Results
. In this one, he takes up the concept of building sustained relationships with a lot of people to achieve your organization's mission. His book focuses on what he calls the "engagement acceleration curve." Sounds technical, but it's ever-practical because it's all about engaging with intent—moving people among a variety of opportunities for engagement and along a curve from low to high engagement. The book covers
Strategic intent
Using data to drive early engagement
Fostering relationships to improve later engagement
Using personal contact to provide the impetus for growth
Leading with free, then realizing ROI
Zapping the sacred zombie cows to free up resources that allow staff and volunteers to focus on doing better things that contribute to engagement
This book also includes the "Big List of Engagement Ideas." Engagement is what we all do--you can't be without a book designed to help you do better than what we're all about!
(2011, ISBN 978-0-88034-334-3, softcover)