199 Ideas: Building Meeting Attendance and Revenue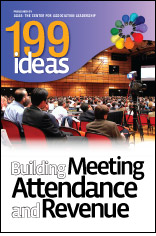 Product Information
Description
Don't repeat the same efforts year after year! Incorporate new features. In today's "reset" economy, stable may appear to be the new normal. But let's be real—we have to keep growing to remain viable. Sure—acknowledge the overwhelming commitments that leave attendee prospects with little or no spare time—but offer them value they cannot pass by.
This book can help. Use it as a checklist to ensure you're doing everything you can to
Boost attendance by giving attendees a reason to come back
Increase revenue, including ideas on events, exhibits, and  sponsorships
Reduce expenses, and more
Full of bottom-line boosters that really work. A definite bargain for as little as 12 cents per idea.