The Decision to Give: What Motivates Individuals to Support Professional Associations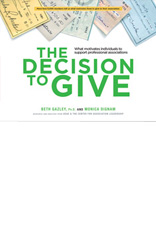 Product Information
Description
If you're raising funds or planning to raise funds, you're looking reality squarely in the eye: Prospective donors have seemingly infinite options for giving. And, the fact that association members give generously to community causes, but less so to their membership organizations, makes the job of raising funds all that more daunting.
In that environment, who isn't looking for an edge?
Amidst the grim news is opportunity. Members of mutual-benefit associations are givers. Convincing more of your constituents to give to your organization, though, may take some adjustment to your thinking.
The Decision to Give--like series predecessors The Decision to Join and The Decision to Volunteer--asked a substantial pool of association members for insight. And just as meaningful involvement breeds loyalty, member satisfaction plays a significant role in a person's likelihood to contribute money to his or her professional association.
The Decision to Give points to numerous possibilities, underscored by study results like these:
Eighty percent of members who have never given, beyond dues, report that they have never been asked. Yet they are satisfied with their membership and give to other causes.
Members prefer to give where they see clear value-for example, to support newcomers into their profession.
Trumping common assumptions, age and career level have little bearing on whether a person is likely to give. Yet the research suggests that many are not seen as prospects.
This book is much more than a fundraising tactics resource. Its content explores giving in mutual-benefit associations through lenses such as gender, academic achievement, income level, and more-providing thought-provoking insight to use in creating or refining development strategy aimed at making your organization an affirmative choice for donor dollars.

(2010, ISBN 9780880343183, 62 pages)