Social Networking for Nonprofits: Increasing Engagement in a Mobile and Web 2.0 World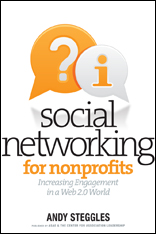 Product Information
Description
Order now to
Gain a functional understanding of popular social networking tools such as Facebook, Linked-In, Blogs, Twitter, and other social platforms.
Delve deeper into how you can leverage these social technologies to achieve your organizational objectives.
Explore nondues revenue opportunities and customer or member engagement strategies on the social web.
Set practical and relevant measures for success.
This publication was specifically developed for the community by association social media and industry experts including primary author Andy Steggles and these chapter contributors:
Lindy Dreyer and Maddie Grant, CAE ("Facebook, LinkedIn, and Other Outposts")
KiKi L'Italien ("Associations Atwitter")
Thomas C. Stewart, Ph.D ("Evolving Educational Applications for Social Networking for Nonprofits")
Barbara F. Dunn, Esq., Nathan J. Breen, and Joshua W. Peterson from Howe & Hutton, Ltd. ("Legal Risk and Liabilities From the Social Web")
Turn to this book for
Evolving educational applications for social networking
Legal implications, liabilities, and risks of the social web
Emerging mobile trends and opportunities
Social Networking for Nonprofits
is the right fit for anyone interested in making the most of social networking, social media, and web 2.0,
order your copy today
.
(2010, ISBN 978-0-88034-317-6, 264 pages, softcover)