Online and On Mission: Practical Web Strategy for Breakthrough Results (E-book)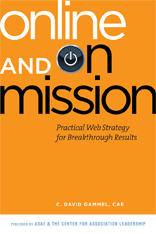 Product Information
Description
Author C. David Gammel spends his working life helping associations and other nonprofit organizations do one thing: align their websites with their overall mission and values in order to create tangible and substantial results. That's what this book is about.
Online and On Mission
provides practical insight into revenue, market need, and marketing strategies as he covers each of seven drivers that organizations might choose to steer the development and execution of their websites:
advertising
branding
community needs
direct sales
paid content
next action
application or service
Gammel neatly weaves advice and examples into a practical guide to linking overall strategy to your website.
(2009, 134 pages, PDF)