199 Ideas: Membership Recruitment and Retention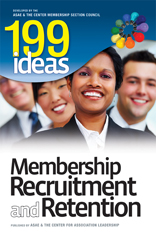 Product Information
Description
Recruiting and retaining members takes a lot of hard work, creativity, and communication to cut through today's intensifying competition. Everyone gets a little stale, and often associations find themselves in the same old trap of "this is how we've always done it." With our brand new
199 Ideas: Membership Recruitment and Retention
you'll take your recruitment and retention efforts to new levels. Here's an advance look at how you can use it to boost your efforts:
Show up the competition-tap into the grapevine for great ideas;
Put this top marketing tool to work to get the most bang for your buck (and don't forget to do this one thing that can make or break a campaign.);
Tap into the most often overlooked group of potential members-they're right in front of you;
7 ways to segment your lists to better target your markets;
Use of the "magic" words to boost direct mail responses;
Drive more traffic to your website with this little-known secret; and much more!
Smart, savvy recruitment and retention ideas that really work!
(2009, 88 pages, ISBN 9780880343138, soft cover)