Supporting the Decision to Join: What Association Boards Should Know and Do About Membership and Affiliation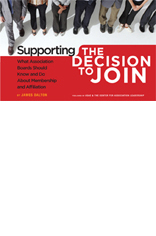 Product Information
Description
When board dialogue turns to value proposition and membership strategy, it can't hurt to have intelligence that's grounded in sound research. James Dalton, co-author of
The Decision to Join
, has mined the 2007 ASAE & The Center study for the most important board-level implications. He's added insight that will resonate with your leadership and put it all in leader-friendly form. Here are but two takeaways you'll want to share with your board:
Member involvement drives loyalty, so a measure of involvement should be an organizational performance metric.
Board members should check the assumption that their views reflect those of rank-and-file members.
Supporting the Decision to Join provides a vital perspective on strategic deliberation and decision making. No board member should be without it.
Special quantity discounts are available for this product.
10-19 copies receive a 10% discount
20-29 copies receive a 15% discount
30-39 copies receive a 20% discount
40-49 copies receive a 25% discount
50+ copies receive a 30% discount
(2009, ISBN 978-088034-310-7, 64 pages, softcover)