Governing for Growth: Using 7 Measures of Success to Strengthen Board Dialogue and Decision Making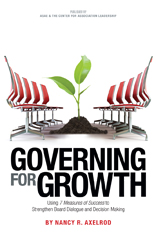 Product Information
Description
Increase your board's involvement in strategy and organizational performance by providing each member a copy of this
7 Measures installment
:
Governing for Growth: Using 7 Measures of Success to Strengthen Board Dialogue and Decision Making
. Nancy R. Axelrod, governance consultant and BoardSource founding president, delivers a practical resource for chief executives and board members.
Governing for Growth
provides you and your board with context and practical approaches to providing stronger insight into achieving the organization's success. This handy resource for every CEO and board member includes:
An overview of the board's role in supporting organizational performance improvement, opportunities for engaging the board in this work, and ways to advance good governance
A means of assessing the board's readiness to help the organization tackle the seven measures
Guidance for preparing your board to apply any of the seven measures to its work
Resources for designing, customizing, and implementing strategic thinking discussions for each specific measure
Special quantity discounts are available for this product.
10-19 copies receive a 10% discount
20-29 copies receive a 15% discount
30-39 copies receive a 20% discount
40-49 copies receive a 25% discount
50+ copies receive a 30% discount

(2009, ISBN 978-088034-309-1, 48 pages, softcover)
Get the most out of your board discussions and planning session with the companion facilitator's guide, Governing for Growth Facilitator's Guide